The difficulty of being Akhilesh: 11 problems the UP chief minister faces ahead of a tough election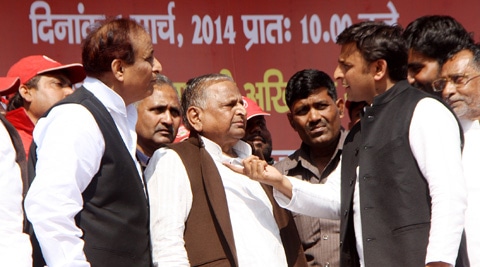 Samajwadi Party supremo Mulayam Singh Yadav,Chief Minister Akhilesh Yadav and cabinet Minister Azam Khan. (IE Photo: Vishal Srivastav)
Akhilesh Yadav's problems don't stop at failing to distinguish between Mulayam the father and Mulayam the party president. Ticked off by Mulayam, pressured by his relatives as well as Azam Khan and faced with countless other problems before and after the Muzaffarnagar riots, the UP chief minister heads into a difficult poll with the Samajwadi Party up against a resurgent BJP. A look at his diverse problems:
The father: The general perception about who really rules remains, and that has constrained Akhilesh as a possible leader. It has allowed opposition parties to mock both. Mulayam has several times publicly criticised Akhilesh's ministers, and said at his son's residence that the ministers cannot survive without him. Mulayam frequently ticks off Akhilesh too, the last occasion coming Wednesday when he said" "Take tough decisions, don't rely on officers. We are answerable to the people, not officer"."
The family: Shivpal Yadav, Akhilesh's uncle and a minister, keep himself aloof from party events. Most of the SP rallies in the past year have been without him. Shivpal has built his own set of loyalists, and got his son Aditya Yadav appointed chairman of Pradeshik Cooperative Federation, the largest in the state. Ramgopal Yadav, Mulayam's cousin, is another power centre. He frequently meets his own set of loyalists. It is a common perception in UP that works related to NCR cannot be done without his consent.
The riots: There may be differences of how many have broken out during Akhilesh's two years, but they do keep happening. The Muzaffarnagar riots are the starkest example, and the government's failure to curb such incidents have polarised the state with Muslims drifting away from the SP. The way the government tried to control the riots also resulted in resentment among the Jat community which finds the action partisan. The most recent site was Azamgarh, where two died. Ambedkarnagar remains tense with the murder of two Hindu Yuva Vahini leaders.
Azam Khan: The party's Muslim face has often embarrassed the Akhilesh government with his tantrums. When he was removed as the minister in charge of Meerut, he resigned as that for Muzaffarnagar and Ghaziabad and relented only after he was reinstated for Meerut. Azam skipped cabinet meetings and the party's national executive committee meeting. Akhilesh once had to go to Azam's home to pacify him.
The party: The SP is split into factions in every district. Rival groups openly oppose one another despite Mulayam's instructions to end bickering. The demarcations are visible clearly even at party functions and campaigns for candidates. Frequent changes in candidates have made the rifts wider. In Sambhal, supporters of Shafiqur Rehman Barq allegedly fired at and pelted stones at minister Iqbal Mehmood's home, according to an FIR by the minister's son. Rakesh …continued »