The Build-UP: Amit Shah's gameplan to conquer UP for Narendra Modi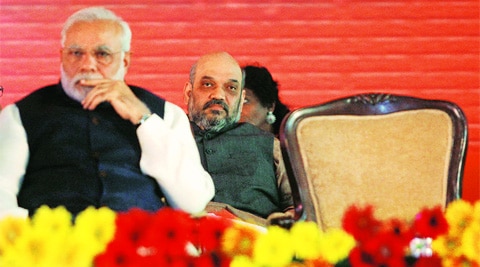 Even before Narendra Modi was declared BJP's PM candidate, Man Friday Amit Shah had set about swinging UP for him, leaving little doubt about the man or his message. (Photo: Amit Mehra)
Even before Modi was declared BJP's PM candidate, Man Friday Amit Shah had set about swinging UP for him, leaving little doubt about the man or his message. Lalmani Verma on the gameplan to conquer the state that matters.
Varanasi votes on May 12. However, the stage for the most symbolic battle of this general election was set almost exactly a year ago. The way the wind would blow in Uttar Pradesh was evident when on May 19, 2013, the BJP announced that Amit Shah, the man known better as Narendra Modi's Man Friday, would steer the party's campaign in the state that decides political fortunes in India.
Shah would take nearly a month to land in Lucknow for his first meeting with office-bearers at the state BJP headquarters. He would waste no time laying down his agenda: to project Modi as 'Vikas Purush' and to popularise the Gujarat Chief Minister's development model in the state. Modi's anointment as the BJP's prime ministerial candidate was still four months away.
In the many months since, Shah has rewritten the Uttar Pradesh campaign over hundreds of such closed-door meetings, flying in and out of Lucknow, accompanied by armed personnel of the Gujarat Police.
If the BJP looks set to significantly increase its tally in Uttar Pradesh come May 16, if Modi's detractors find themselves effectively pushed to the margins in the party, and if the coming election in the state looks sharply polarised, the imprint is of Shah.
***
Modi was named the PM nominee in September 2013. Within a month, the first of the eight rallies planned by Shah for him in Uttar Pradesh — the maximum for any state — had rolled out. These were dubbed 'Vijay Shankhnad (victory bugle)' rallies.
At a meeting with party workers in Bareilly on October 5, Shah further underlined that he expected "an atmosphere in favour of Modi" at every polling booth. "The only alternative to the Congress is the BJP, and not the Samajwadi Party or the BSP. The BJP's PM candidate is Narendra Modi and you have to appeal for votes on his name alone," Shah said.
"A crowd of more than 22 lakh people was mobilised through these rallies," says a party leader, adding that the target was to mobilise 50 lakh people. The meetings also helped the BJP galvanise party workers, and draw in former MPs and MLAs who had left the BJP over the past 10 years.
Shah planned the rallies to the last detail, from deciding the venue to giving Modi inputs on local issues for his speeches. He also had an effective say …continued »