Tharoor faces slander and a contest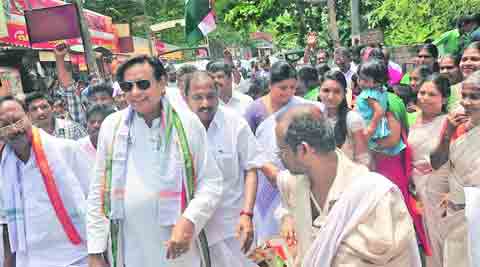 On campaign in Kallikadu; his theme is work done. Express
In front of a flex board describing the initiatives of Shashi Tharoor as MP, a local Congress leader addresses a few dozen people.
"There was a tragedy in Tharoor's life," he tells them. "But there is no evidence against him. Communist men, if you have any evidence, you can hand it over to the media or police."
As his aide tries to clear any possible doubts voters may have about Sunanda Pushkar's death, Tharoor is at a nearby Christian ashram, soliciting votes.
Five years earlier, Tharoor's image as Kerala's international son and the local aspirations that came with it helped him to a huge victory, by 9,99,998 votes. Today, the battle ahead is difficult, a triangular contest against the Left's Bennet Abraham and BJP veteran O Rajagopal, with AAP candidate Ajit Joy, a former IPS officer, adding variety.
Tharoor claims credit for every new Thiruvananthapuram project, upcoming or completed. He has erected high lights at junctions, supplied computers to schools with his local area development funds. "He may be a good administrator and exhausted his LAD funds. But women voters are concerned about the mystery around Pushkar's death. This time, the result is unpredictable," says M Rani, a social activist at Kallikkadu.
H Shaji, a shopowner, says the Left has taken the Pushkar issue to the public through self-help groups and women workers in rural job guarantee schemes.
Tharoor has complained the Election Commission against his rivals raking up Pushkar's death. The Left, for its part, says it is natural that the campaign should see discussions on the candidate's background. At party conventions that preceded the ongoing vehicle campaign, Tharoor had voiced his worries and wanted women squads to counter the smear campaign.
The Left has also targeted him over his book The Great Indian Novel, published in 1989. It has quoted lines to allege Tharoor has depicted Hindu Nair women as immoral. Tharoor belongs to the Nair community and the Left is hoping to wean away those votes.
Tharoor has been saying, "I have brought central projects to Kerala. I have lobbied to get stops for trains in stations near you." Occasionally, he has targeted Left candidate Abraham: "Some persons are soliciting votes with religion. I am working for people of all religions."
Abraham belongs to the Nadar community, some 4 to 4.5 lakh people who have a reputation for voting as a community. Tharoor makes it a point to visit churches and leaders. He spent Sunday in churches lobbying for votes.
The BJP's Rajagopal is, like Tharoor, a Hindu Nair. In 2004, Rajagopal had bagged 2.28 lakh votes; in 2009, the BJP replaced him and managed only 84,000. Rajagopal, 85, has never won any of his six Lok Sabha and assembly elections but the BJP is campaigning vigorously, hoping for a sympathy wave and banking on the general impression that the BJP will come into power.
The Nair votes, second …continued »