Updated: February 14, 2014 3:56:51 pm
Ram Gopal Verma once in an interview said he never backed off from a fight in his youth. When the interviewer pressed for an answer, Verma conceded that he had Lagadapati Rajagopal to look after him.
Rajagopal and Verma went to the same engineering college in Vijayawada. The college was notorious for student gang wars. A good majority of the students belonged to the Kamma and Kappu community. Caste has always been point of contention between the students. Verma's Shiva is loosely based on his college days, and is heavily inspired from the region's rowdiness.
Last night, #RowdyMPs was trending on Twitter. It is not an irony that Rajagopal was linked to the hashtag. Only this time, there was a change in the choice of weapon; a hockey stick became a can of pepper spray.
Yesterday was, perhaps, the only day in the last two-three months where Arvind Kejriwal was not the lead story. There has been a substantial coverage in India about the ruckus that Rajagopal caused in the parliament yesterday. Images of Vinay Pandey, a Congress MP from Shrawasti, covering his nose with a handkerchief were splashed across the national front pages. So we take a look at how international papers reported the story.
Pakistan
Our "friends" across the border reflected the sentiments of every Indian in their news headlines.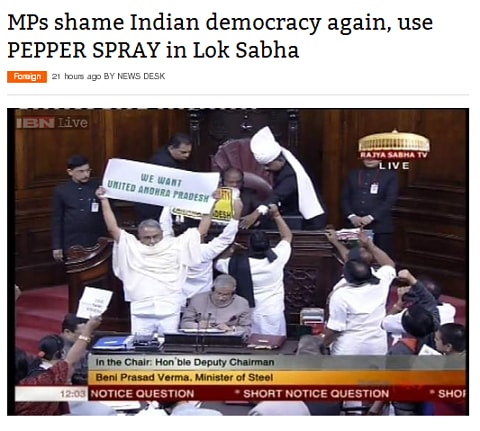 Pakistan Today ran a bold headline with the words pepper spray highlighted in caps.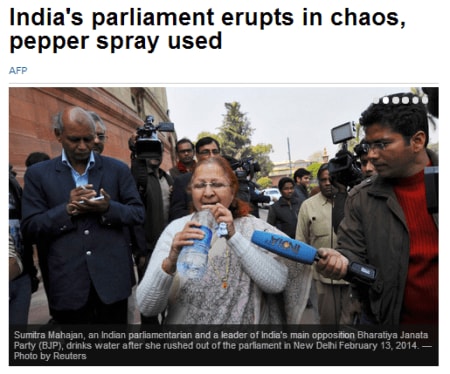 Dawn, Pakistan's oldest English newspaper, went with a more moderate headline "India's parliament erupts in chaos, pepper spray used".
Singapore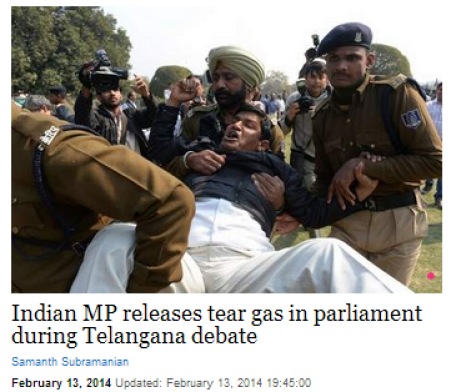 The National, a government-owned newspaper based in Abu Dhabi, seemed to have used the words "tear gas" in their headline for a bigger impact. In the readers' mind, tear gas immediately throws up images of riot police using gas shells to dispel unruly crowds.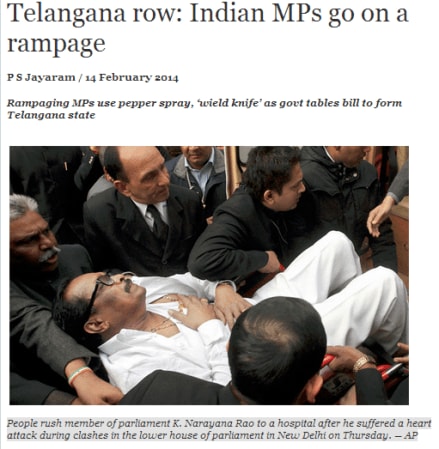 Khaleej Times chose a different lead image from the rest of the international press pack. A frail-looking Narayana Rao carried by others to an ambulance draws the readers in.
Singapore
The Straits Times, a Singapore broadsheet newspaper, made a hash of the headline but chose wisely when it came to the lead image.
United States of America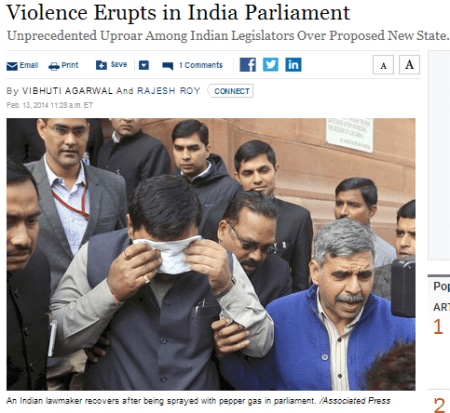 The Wall Street Journal carried the story in all three of its international editions (US, Europe, and Asia).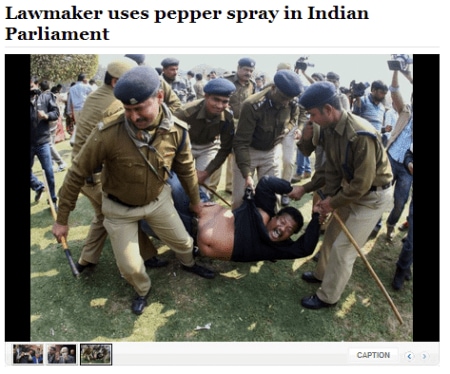 The Washington Post published an agency report about the pepper spray attack
United Kingdom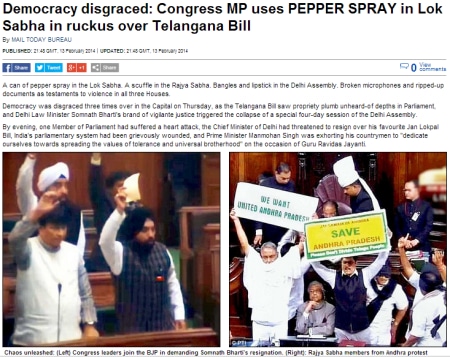 The Daily Mail stuck to its usual template of lengthy headlines, which would qualify as straplines, and big, bold images.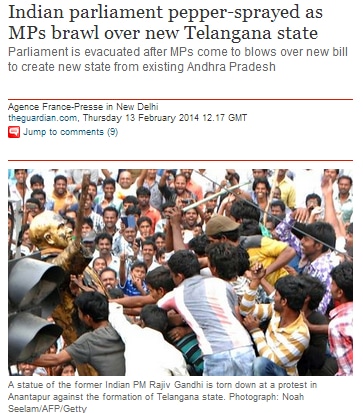 The Guardian also ran a agency report about the attack.
Canada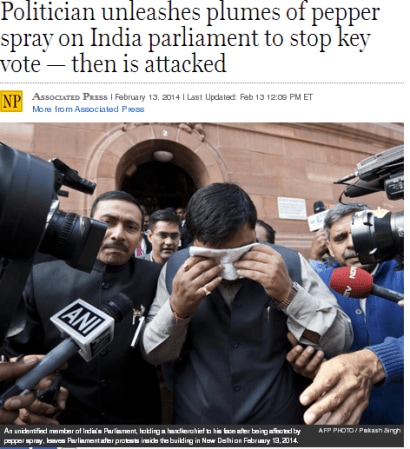 Canada's National Post surprisingly went with a three deck headline.
China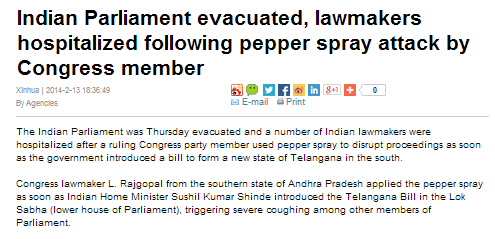 China's pro-communist newspaper, Global Times, tread lightly this time after its over the top coverage of the Delhi rape incident  in 2012.
For all the latest India News, download Indian Express App