Ties with BJP under strain, TDP threatens to go it alone in polls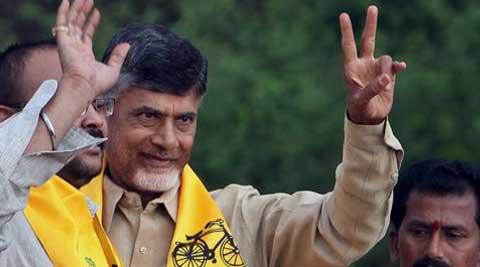 TDP President and former Chief Minister of Andhra Pradesh state, N Chandrababu Naidu. (PTI)
Less than a fortnight after the Telugu Desam Party (TDP) returned to the NDA, its alliance with the BJP seems to be in trouble. The TDP has even threatened to delink from the BJP in Seemandhra and contest all the Lok Sabha and Assembly seats there on its own, while leaving the tie-up intact in Telangana.
Differences have cropped up between the two allies over two issues — TDP chief N Chandrababu Naidu's opposition to the BJP's "weak" candidates in one Lok Sabha and six Assembly seats, and his insistence on sharing the stage with BJP prime ministerial candidate Narendra Modi at public meetings in Seemandhra.
While the issue of the BJP picking industrialist Gokaraju Ganga Raju for the Narasapuram Lok Sabha seat instead of Naidu's choice — another industrialist, Raghuram Krishna Raju — may be settled by Friday evening, Naidu is still peeved with the BJP leadership for not responding to his request on sharing the dais with Modi.
Naidu has also objected to the BJP's choice of candidates in several assembly constituencies in Seemandhra. His contention is that TDP candidates would have a better chance of winning than the BJP's "weak" candidates.
"We have been maintaining right from the beginning that the alliance should be useful for both parties. But the TDP is ending up as the loser here. We have been forced to give away TDP seats to the BJP. Now they are fielding candidates who have no chance of winning.
These are all seats that the TDP can win by itself. If a BJP candidate loses in an assembly segment, we will lose that parliament seat also.
This will prove detrimental to the TDP. As of now, if the BJP does not cooperate with us and field candidates who can win, we will pull out of the alliance in Seemandhra and contest alone. In Telangana we cannot do anything because the nominations have already been filed,'' said state TDP spokesperson Kodela Shiva Prasad Rao. He said the BJP's candidates in Narasaraopet, Vijayawada, Nellore, Rajampet, Narasapuram and Rajahmundry had no chance of winning.
"During discussions with BJP leader Prakash Javadekar, it was understood that in the seats allotted to BJP, some favourable candidates suggested by Naidu would be selected. However, the BJP has ignored Naidu and nominated other candidates, and this has not gone down well in the TDP,'' said a TDP leader.
However, state BJP president K Haribabu said there was no such understanding and Naidu had suggested a candidate only for Narasapuram LS seat. "We assured him that his suggestion would be considered… we found Ganga Raju to be a better choice,'' he said.
Denying any problems with the TDP, he said, "There is no such thing. When two parties come together, some problems and hiccups are expected, but we have sorted out …continued »