Lok Sabha elections: TAMIZH TALKIES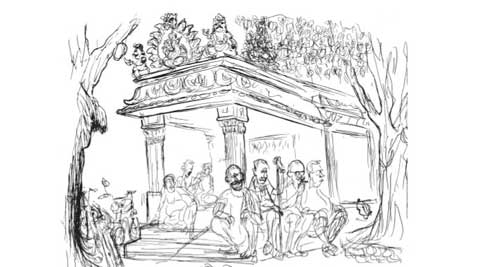 Elderly voters discussing no more than Karunanidhi and Jayalalithaa at a temple in Umarikadu, a village in Thoothukudi. (Cartoon by EP Unny)
Jayalalithaa started her campaign well in advance like good friend turned mid-poll foe Narendra Modi. For elections scheduled soon after this Easter, she positioned herself well before last Christmas.
December last, hoardings sprang up along the roads that connect the CM's Poes Garden home to Marina Beach. In hundreds, hailing Amma as PM, give or take a little election. Got many eyeballs in Chennai, then in the thrall of the music season. However, morning walkers from the neighbourhood, mostly NOTA voters, dismissed the whole thing as gimmick and walked on.
The big ticket announcement was primarily meant for party men who were readying to commemorate founder MGR on Christmas Eve, his death anniversary. The wayside visual overkill, an insider ventured, was also meant for the presidential eyes of Pranab Mukherjee who was visiting Chennai on December 20, 2012. In case of a hung Lok Sabha, the veteran would have a role.
Such display boards have since sprouted in places near and far — Delhi's Tamil quarters to a particularly colourful one at Palakkad in Kerala, whose only connect to the Amma legacy is that it is MGR's hometown. Also Prakash Karat's, a factoid that could have had some salience, had AIADMK's tie-up with the Left run half as long as an MGR film. That apart, come elections and the Tamil land was expected to bloom into graphic spreads.
A surprise was in store as you entered Tamil Nadu from Kerala. Narendra Modi waved you off, from a hoarding flanked by the most winnable candidates from the bordering states –  O Rajagopal from Thiruvananthapuram and Pon Radhakrishnan from Kanyakumari. After which, it took miles on end to sight another poll image. The Election Commission's man in Chennai had struck. No visual splurge in towns. Only in villages. The EC went to the extent of covering the Chief Minister's face with paper and sticking tape on governmental displays.
Leaders' pictures are allowed at party events where Jayalalithaa outdoes the rest, celebrating with a vengeance. She tries out unconventional mounts to maximise appeal. Balloons carrying her picture set against Parliament House go up at her Pollachi rally. On the highway to the Nilgiris, you see her Red Fort in motion — a semi-knocked-down cut-out being carted to the next big do.
Between big events, it is a long spell of visual drought. In Kotagiri, the DMK tries to make up with audio. From a stationary jeep fitted with big box speakers, lyrics in a loop blare out in praise of 'Dalapati (Group Commandant) Stalin who arrives in leonine gait…' No patch on the visual morphing you see in a Rajini film, but the earworm stays.
In Nagercoil, the BJP candidate stops strategically at …continued »