Tamil Nadu's NDA jigsaw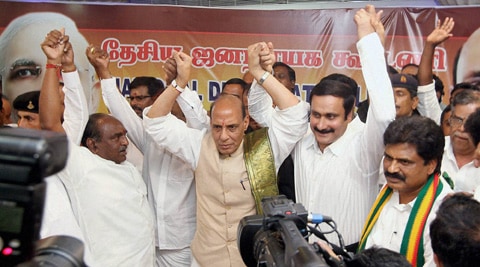 BJP president Rajnath Singh with alliance partners in Chennai. (AP)
and won 1.91% of votes polled. That figure, however, does not convey the real picture. In four of those constituencies, the fledgling party scored over a lakh votes, pushing the DMDK to number four. With double digit vote share at Coimbatore (15.54%), Erode (13.90%), Pollachi (13.35%) and Tiruppur (12.85%), the party proved its significance.
It chose the wrong side by deciding to contest as part of the DMK alliance, and won none of the seven it contested. And since then, it has splintered into three, with the KMDK emerging as the most influential among the lot. They are key partners for the BJP to have a fighting chance from Coimbatore, an important constituency for the saffron party.
Indiya Jananayaka Katchi (IJK)
Numerically, this is the surprise constituent in the NDA. Formed just before last Assembly election, the IJK contested from 126 seats, and forfeited deposited in every one of them. The numbers were so dismal that its candidates got over only three figures in half of them, lowest being 173 votes.
What it lacks in strength, it makes up for clout. Its founder T R Pachamuthu is one of the richest edu-preneurs in the state, who owns the SRM Group that runs several private professional education institutions. The group has interests in software, construction and road transport. More importantly in the election season, he also owns Puthiya Thalaimurai (New Generation), a news channel that is arguably the best in business at the moment.
To be fair, the channel has not glorified its owner as much as the other Tamil news channels do, but it is likely to favour a fresh, alternative politics — which is what the BJP claims to offer.
Bharatiya janata party (BJP)
Among the smallest parties in the coalition, the party draws its power from being the leader of the national-level alliance. In the land of Dravidian politics, there is little space left for the BJP. It won none in 1996 — the most creditable performance was present state unit president Pon Radhakrishnan coming runner up from Nagercoil (now Kanyakumari constituency).
In 1998, however, contesting in alliance with the AIADMK, it won three seats — Coimbatore, Kanyakumari and Nilgiris. It vote share went over double to 6.9%. The partnership lasted only about a year, and the DMK came forward to offer support. In 1999 election, the BJP retained the three seats and won Tiruchy as well, increasing its vote share to 7.1%. Many predicted a lotus bloom, which did not happen.
In the 2004 Lok Sabha election, the AIADMK and the BJP were washed away in the widespread displeasure against incumbent government at Centre and state, winning none of the 39 seats. Nothing changed in 2009 election as well, and Radhakrishnan remained the only strong candidate.