Tamil Nadu's NDA jigsaw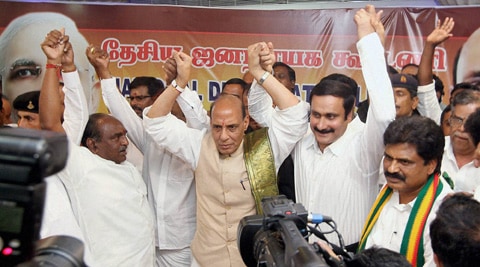 BJP president Rajnath Singh with alliance partners in Chennai. (AP)
influential post-Independence before being subsumed in the Congress. Now, Vanniyars are spread across parties.
What made Ramadoss and his party different was its appeal among the poorer section of the community. By aligning with the frontrunner in successive elections, PMK won seats and vote share, and Ramadoss began portraying himself as the kingmaker. Whenever this strength was tested, as is the case now, Ramadoss returned to the hardline caste roots, primarily being anti-Dalit, that is said to have an appeal among the core voters.
The threats to him are two-fold, from the DMK which fielded senior Vanniyar leaders to take on Ramadoss, and the DMDK that has eaten into the Vanniyar votes he has invested every last penny on.
The party performed poorly in the 2009 Lok Sabha and 2011 Assembly polls. These results were tied to Rajya Sabha nomination for his son Anbumani, which did not materialise. This time, Anbumani is contesting for the first time, surely eyeing Cabinet slot in the NDA government.
Marumalarchi Dravida Munnetra Kazhagam (MDMK)
In Tamil Nadu, the loudest voice endorsing BJP's prime ministerial candidate Narendra Modi is heard not from its regional HQ, Kamalalayam, but from Thayagam, office of the MDMK. Its general secretary Vaiyapuri Gopalaswamy alias Vaiko was the one most enthusiastic about the alliance with BJP, a party with which he has had good relation during Atal Bihari Vajpayee's NDA. The MDMK's eagerness to be part of a grand coalition is understandable, considering the reversals it had to face in the recent past. Few of its senior members returned to the parent DMK, and it was forced to sit out of the last Assembly election after being ejected from the alliance by lead partner, AIADMK. Winning a handsome vote share — and possibly a few of the seven seats —  it is important for it to stay relevant in the coming days.
Once the most promising young leader in DMK, Vaiko launched the MDMK in 1994 after being expelled. The party did not prosper as he would have liked, and remained electorally relevant only in a few seats, mainly in south Tamil Nadu. But in its area of influence, the MDMK still has a committed bunch of cadre who will provide the last-mile connectivity to alliance partners. This would especially be of help for the BJP that has a product in Modi, but not the foot soldiers to sell it.
Kongunadu Makkal Desiya Katchi (KMDK)
The party from the Kongu region, the industrialised western belt, is a new start-up in the sub-regional, caste-based political grouping, espousing the cause of the intermediary communities, particularly the Gounders. Like Vanniyars in the north, this is a strong community in the west; and like their fraternal caste mates, they position themselves socially and politically as anti-Dalit. What makes the caste more influential is their financial might — according to some estimates, the region contributes to more than a third of the state's revenue.
The original outfit, the Kongu Nadu Munnetra Kazhagam, cut its teeth in the 2009 general election where it contested 12 seats …continued »