Tamil Nadu's NDA jigsaw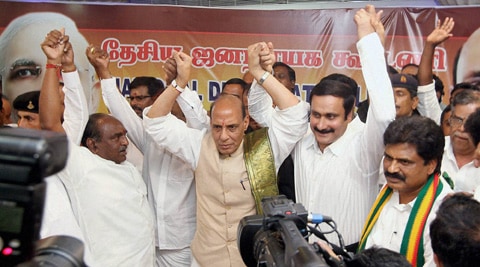 BJP president Rajnath Singh with alliance partners in Chennai. (AP)
Desiya Murpokku Dravida Kazhagam (DMDK)
Being the only one in the group that can claim to have a vote bank across the state, the party floated by actor-turned-politician Vijayakant, was expected to bargain hard for a lion's share once the discussions moved to seat-sharing. At the end, the party cornered 14 seats, including five from where it had won over a lakh votes in 2009, and another two with over 90,000.
With the DMK and the AIADMK holding 20-30% vote share, the Congress (and its splinter, Tamil Manila Congress) occupied the third place for decades since 1970s. There were a few newcomers, but none could claim the statewide appeal that these three had. That changed in 2006, when the angry 'Captain' burst into the scene. Vijayakant was the only winner among the 232 candidates it fielded. But it got 8.34% votes, playing spoilsport in most constituencies. In 2009, he went alone once again despite advice against it, and won 10.30% votes. In the severely-splintered Tamil Nadu vote bank, these are significant numbers. It went for an alliance for the first time in the 2011 Assembly election and won 29 of the 41 seats it contested as part of the AIADMK-led alliance, emerging as the second biggest party in the House.
Vijayakant had a spat with AIADMK general secretary and Chief Minister J Jayalalithaa inside the Assembly, after which the latter said she regretted aligning with his party. Her party worked on DMDK MLAs and has so far managed to prise out nine. But for a party that garners every vote in its leader's name, this is unlikely to have a major impact on its electoral prospects. After being the junior partner last time, this election is the stage where Vijayakant has to prove if his party can pull itself and partners through. For, that will be his chip to stake claim for his real ambition — Chief Minister of Tamil Nadu in 2016.
Pattali Makkal Katchi (PMK)
This was one of the most difficult pieces in the NDA jigsaw, as the question was about accommodating the competing interests between the DMDK and the PMK, rivals for the same piece of communal vote pie in the same region of influence. Though a settlement was reached, this rivalry is bound to continue.
The party has its roots in Vanniyar Sangam, an outfit working for the welfare of the Vanniyars, an intermediary caste that accounts for about 12% of the state's population. Though this figure is not very impressive, that it is concentrated in the north and north-western districts makes it influential beyond these figures.
Since the formation of its political wing, PMK, in 1989, Ramadoss has been claiming exclusive right over the community votebank. However, it was not as if the community was under-represented. Parties like Toilers Party and Commonweal Party formed by leaders from the community were very …continued »