Tamil Nadu: Jayalalithaa in play if NDA underperforms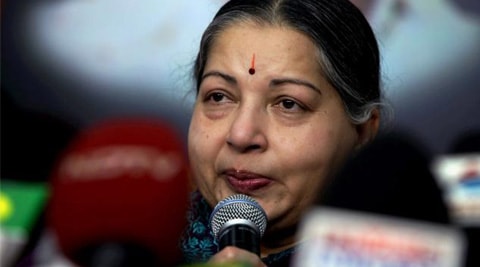 Tamil Nadu chief minister J Jayalalithaa. (Source: PTI)
When she took charge as chief minister three years ago, AIADMK general secretary J Jayalalithaa probably had this day in mind. In hindsight, the functioning of the government in these years— the well-oiled welfare juggernaut, the popular Amma Canteens, the countless letters to the Prime Minister on Lankan Tamils, Cauvery and Mullaperiyar — was oriented towards her party's prospects in the Lok Sabha election.
Exit polls have predicted a big win for the AIADMK which is contesting all 39 seats. The question really is: over and above the conservative estimate of 20 seats, how much more will the AIADMK win?
Electorally, Tamil Nadu can be divided into three distinct regions — north, west and south. The AIADMK has traditionally been strong in west and south, which the DMK was able to counter with alliance arithmetic in the last two elections — something amiss this time.
After its 0-39 drubbing in 2004, the AIADMK was able to regain much of the western seats last time. But the south still remained elusive, shared by the DMK and the Congress (four seats each). This time, Jaya's party is expected to win back most of the seats. The gains the AIADMK makes in west and south will form the 20-seat foundation. The DMK will pay the price for not aligning with the Congress or the Left, who still have their votes here.
The northern belt is crucial for the DMK. In 2009, it won against the combined strength of the AIADMK and the PMK. Retaining many of these seats is important if the party is to score at least double digits. On the other hand, if the AIADMK leads here, that would mean the party could go on to win nearly 30.
The BJP might win from Kanyakumari, not necessarily because of Modi. Its candidate there, BJP state president Pon Radhakrishnan, has several factors working in his favour, including his caste, and has been a runner-up even when BJP was without allies, like in 2009.
The search for evidence for a Modi wave should instead be directed at Coimbatore. The BJP was keen to fight from here though it received only 38,000 votes last time. In contrast, the winning candidate had 2.93 lakh and the runner-up 2.54 lakh. Even smaller alliance partners received two and four times the votes as BJP. The combined votes of NDA partners in 2009 was about 2.40 lakh. The demography and communal relations make this seat ripe for a Modi "wave".
It was 15 years ago that an impulsive Jaya withdrew support to the NDA, conceding space to the DMK which has held on to it for most part since then. This is her best chance to win it back. There, however, is one more detail that would determine the role that AIADMK could play in national politics in the coming days. Regardless of the number of MPs she has …continued »