Narendra Modi appointed PM, swearing-in on May 26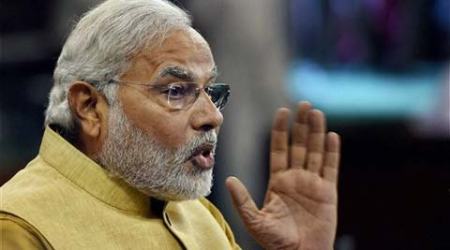 Modi will be sworn-in as Prime Minister on May 26. (Source: PTI)
Marking the arrival of a new era in Indian politics, Narendra Modi was on Tuesday appointed Prime Minister, who said the elections have kindled a "new hope and aspiration" among the common man for whom he dedicated his government.
President Pranab Mukherjee handed over to him the letter appointing him as the Prime Minister and he will be sworn-in on May 26 at 6 PM. The appointment came after the 63-year-old Gujarat Chief Minister was unanimously elected leader of the BJP Parliamentary Party as well as that of NDA in a meeting that was punctuated by outpouring of emotions by "strongman" Modi who broke down for a moment.
Modi's formal ascent to the top caps the stunning electoral victory that he had secured in the Lok Sabha elections that will bring in the first non-Congress government in 30 years with absolute majority.
Party patriarch L K Advani, who had opposed projection of Modi as the Prime Ministerial candidate, proposed his name for the leader of the BJP Parliamentary Party which was seconded by a number of leaders including Murli Manohar Joshi, Sushma Swaraj, Arun Jaitley, Venkaiah Naidu and Nitin Gadkari.
His election was received by thumping of desks in the historic Central Hall of Parliament, which reverberated to the cries of 'Bharat Mata ki Jai'.
At the end of the meeting, BJP President Rajnath Singh invited the gathering of newly-elected MPs to express their approbation with a standing ovation.    The NDA leaders and MPs joined the gathering immediately to elect Modi as the coalition leader and straightaway drove to the Rashtrapati Bhavan to convey to the President the election of their leader so that he can call him to form the government.
Accepting the responsibility, Modi said the election result was vote for "new hope and aspiration" and he would try his best to live up to the expectations of the people. "I accept the responsibility you have entrusted upon me. I assure you today that we meet in 2019 and I present my report card, you will not feel let down. You will never get an opportunity to look down on what my government will do," he said.
Dedicating his government to the poor and the common man in whom the elections have generated "new hope and aspiration", he said, "I believe a government is one which thinks of the poor, listens to the poor and lives for the poor." He added that his government would also be dedicated to the crores and crores of youth and "mothers and sisters who are craving for respect".
Modi, who was making his maiden entry into the hallowed Central Hall, bowed at the entry of Parliament with his forehead touching the stairs as a mark of respect to the"temple of democracy". Shedding his electoral rhetoric, he said he would not say that previous governments had done …continued »