Stand-up comic Mann forces Akalis, Cong to sit up in Sangrur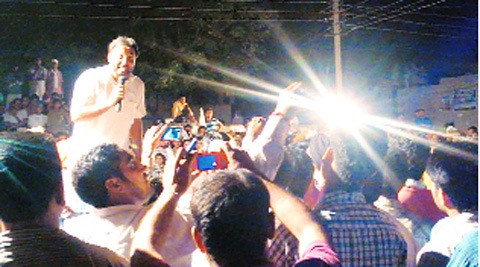 'Even a rooster wears a crown,' says Mann about 'rulers'.
Sangrur, the Lok Sabha constituency in Punjab that has traditionally witnessed direct contests between the Congress and the Akali Dal, is laughing all the way to the polls. Stand-up comedian Bhagwant Mann is the Aam Aadmi Party candidate here and is drawing enough crowds to get his rivals worried.
At Sangala village on Sunday, a kilometre-long motorcycle cavalcade led by volunteers in AAP caps announces his arrival and the crowd cheers "aa gaya, aa gaya (he has come)". As Mann alights from his car, he is almost mobbed and carried up to the village chaupal. He gets to work straight away, pulling out his stock jokes but which have people in splits anyway.
"Hukumat woh kartein hain jinka dilon pe raaj hota hai. Kehne ko to murge ke sar pe bhi taaj hota hai. (A ruler is one who rules hearts. For that matter, even a rooster wears a crown).
"Modi speaks of selling tea and behind him stands his helicopter. What kind of tea does he sell? Maybe I should try selling the same tea so I can prosper too.
"Badal has his pictures everywhere. Very soon, they will distribute utensils with Badal's pictures on them. Women in villages will then have to wash utensils in purdah! The husband will ask her: Surjit Kaur, have you wiped Badal? And Surjit Kaur will answer: No, I'll wipe him off on April 30."
Mann, best known for his wisecracks on The Great Indian Laughter Challenge on Star Plus, is a household name in Punjab. His TV shows, Jugnu Kehnda Hai, Jugnu Mast Mast and Jugnu Hazir Hai, were huge hits in the state. In 2011, Mann joined Manpreet Badal's People's Party of Punjab (PPP). He contested  the 2012 assembly polls on a PPP ticket from Lehragaga, but lost to the Congress's Rajinder Kaur Bhattal.
But this time, he looks confident. Over the last month since he began campaigning, the crowds at his street-corner meetings have swelled. The dais is usually the village chaupal or simply the best vantage point — the roof of a car or the seat of a motorcycle. His speeches are a hit on social media sites such as Facebook, WhatsApp and Twitter, forcing both the Congress and the Akali Dal to speak against him.
"Mann does not realise that there is a lot of difference between stand-up comedy and electoral politics," Vijay Inder Singla, the sitting MP and Mann's Congress rival, told The Indian Express.
"We had a road show yesterday and 25,000 youth attended it. The youth are with the Akali Dal, not with Mann," said Akali candidate and Rajya Sabha MP Sukhdev Singh Dhindsa.
But at another meeting in village Khokhar, Mann tells the crowd that his rivals are targeting him "because they have forgotten they are standing against each other". The crowd claps and cheers, asking for more. But Mann changes …continued »