Sonia Gandhi takes on Modi in Gujarat, says he's only worried about chair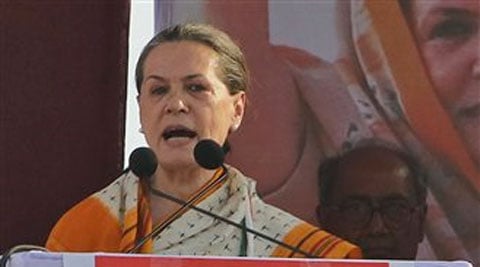 Sonia asked voters not to elect the forces whose ideology hinges on "hardline" thinking and "hatred".
Congress president Sonia Gandhi tore into BJP's prime ministerial candidate Narendra Modi's bastion Thursday and said that the election this time, was a fight between ideologies.
Criticising the 'Gujarat model' of development as that where the voice of the weak gets diminished, Gandhi said in Kheralu, "He bhagwan desh ko bachao is tarah ke model se (God, please save the country from such a model)". Kheralu falls under the Patan Lok Sabha constituency and is 15-km away from Modi's hometown, Vadnagar.
Accusing Modi of being concerned only about his chair and not the people, the Congress president said the state has the highest dropout rate in the country and does not consider a family poor if its daily income is Rs 11.
"What is more startling is that those who earn more than Rs 11 (a day) are not considered to be poor by the Gujarat government. Tell me, is this heaven or something else. They are only concerned about their chair and have nothing to do with the poor," she said at an election meeting in the predominantly tribal village of Jujva in Dharampur taluka of Valsad district.
Reacting to Modi showering praise on shehnai maestro Ustad Bismillah Khan from Varanasi as the symbol of Ganga-Jamuni tehzeeb in his blog, before he filed his nomination from the holy city Thursday, Gandhi said in Dharampur, "BJP is such an ideology. It dances to the tune of an organisation which does not believe in 'Ganga-Jamuni tehzeeb'…, which through hate mongering, narrow-mindedness and hardline thinking creates discrimination in the society".
Directly attacking Modi in Kheralu she said , "Gujarat's chief minister repeatedly campaigns about the Gujarat model. What is this Gujarat Model?You have a major problem of potable water. Every second child below five years of age is malnourished. You tell me what will happen to the poor? I will only pray, 'God, please save the country from such a model'."
She said that as opposed to the Congress ideology which seeks to unite the nation and brings in amity between different faiths and religion, BJP's ideology "…. breaks the country's traditions and principles which we have nursed for centuries. It is such an ideology which wants to impose cruelty in the name of unity".
In Dharampur she said, "BJP in its campaign claims that it will bring paradise on earth but I want to tell people of Gujarat that it was the Congress government and foresightedness of their leaders that brought revolution in Gujarat with the industrial development in Ankleshwar, Jhagadia and Vapi. Amul Milk dairy came in Gujarat during Congress rule. We have built Daman Ganga dam and Ukai dam in South Gujarat for supplying water for irrigation and power generation. "
Remembering her mother-in-law Sonia Gandhi said, "Indira Gandhi had in her tenure given 17000 acres of land …continued »