Ilmi, Gopinath quit: AAP being run by crony clique, Arvind shot messenger
"We fight against cronyism, but we have a crony clique that runs the party and takes impulsive decisions," said Ilmi.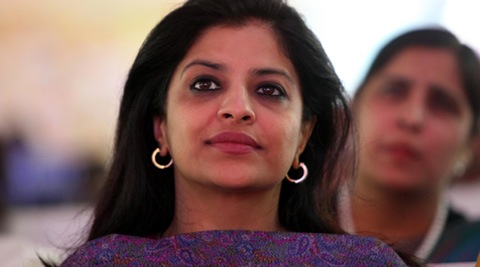 My party and I have always stood against any form of communalism and I shall continue to do so, she said. (IE Photo)
play a role, and am given a relevant role, then perhaps I will return." When his comments were sought, AAP leader Yogendra Yadav said: "We are saddened by her decision to quit and hope that she will reconsider, since she also said that she wishes us well, and could return if her views are given relevance. We tried to convince her, but could not succeed. She was upset for the past couple of days. She had even placed her grievances before us at the national executive meeting. She wrote letters and spoke to some of the party members."
Earlier in the day, AAP leaders Vandana Kumari and Somnath Bharti met Ilmi at her residence, and despite a claim from Bharti that the matter had been resolved, Ilmi went on to announce her resignation in the afternoon.
It is learnt that the party leadership has had several problems with Ilmi recently and things came to breaking point after she asked to be included in the party political affairs committee. She mentioned this on Saturday when she said, "I have spoken within the party about a woman being part of the PAC but nothing happened."
The relationship between Ilmi and other party leaders were strained after a series of controversies including a video in which she appeared to be asking Muslims to be "communal" during elections — the video went viral on social media. Captain Gopinath, on his part, wrote a letter to AAP Karnataka convenor Prithvi Reddy: "I would like to resign from the membership of the Aam Admi Party with immediate effect because of increasing differences with the party leadership and its ways."
In a blog entitled, "Has Kejriwal lost his way", Gopinath wrote: "It's one thing to gossip about it in private but when one holds a responsible position as head of a political party, one has to take responsibility and not, as some one described it, indulge in shoot and scoot politics, denigrating people's reputation, however credible the rumours may seem and however tempting the chance to score brownie points or capture media attention and public sympathy as a crusader against corruption." On Gopinath's resignation, Yadav said, "I didn't even know Gopinath had joined AAP."