Ilmi, Gopinath quit: AAP being run by crony clique, Arvind shot messenger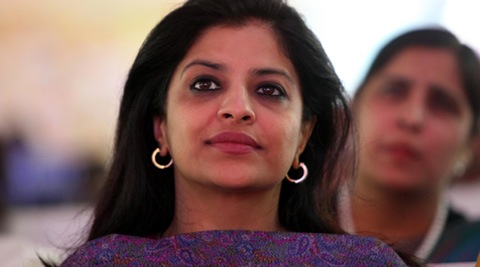 My party and I have always stood against any form of communalism and I shall continue to do so, she said. (IE Photo)
Shaken by the rout in the Lok Sabha elections and volunteers questioning the leadership for the debacle, the Aam Aadmi Party took another hit Saturday when Shazia Ilmi, one of its most popular faces, walked out of the party protesting "lack of inner-party democracy, perpetuation of sensationalism… and a crony clique who run the party and take impulsive decisions which we learn about later".
Taking a direct swipe at chief Arvind Kejriwal — he is in jail for refusing a bail bond in a defamation case — Ilmi told reporters: "Are naming some corporate houses and politicians continuously enough… when we became a political party, it needed to evolve and not just assume the garb of agitation… Arvind has shot the messenger."
She said she had been "systematically marginalised because I offer a voice of dissent and constructive criticism". Along with Ilmi, Captain G R Gopinath, who pioneered low-cost air travel in the country, also resigned from the party saying Kejriwal practised politics of "shoot and scoot".
Ilmi, who unsuccessfully contested the Delhi assembly elections and the Lok Sabha elections, said: "My decision to leave the party is triggered by a lack of inner-party democracy, specially from a party that constantly talks of Swaraj. We fight against cronyism but we have a crony clique who run the party and take impulsive decisions which we learn about later."
"I find it amazing that we cannot follow the principles of Swaraj within our own party. When a brilliant person like Arvind, who espoused the concept of Swaraj, of collective decision-making is unable to follow it personally within the party, then doesn't it become incumbent to point out the same?"
She said she disagreed with the "perpetuation of sensationalism" and the current "bail-jail imbroglio": "Granted it may have helped us make our point initially but to continue to use it as a norm defeats the exercise of trust reposed in us by the public… One strongly believes that instead of wasting our collective energy on this bail-jail imbroglio, Arvind should actually be spending time with cadres, candidates, volunteers, critics."
Asked if she would ever reconsider her decision to quit, she said: "If the party believes I can …continued »