Shahnawaz needs Modi, his rivals need Muslims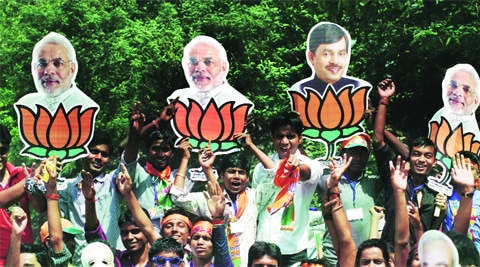 Posters of Narendra Modi and Shahnawaz Hussain at a rally in Bhagalpur, which votes April 24. Prashant Ravi
"If BJP wins Bhagalpur, one would have to believe there a was Modi wave in Bihar." That's the common argument put forward by pollsters assessing Bhagalpur's sitting MP Syed Shahnawaz Hussain's chances of being re-elected from Bhagalpur, the silk town infamous for the 1989 riots in which about 900 people were killed.
RJD chief Lalu Prasad is said to have played a masterstroke by attempting a Muslim, Yadav and Gangota (M-Y-G) combination which may outweigh the BJP support base of the upper castes, Banias and a section of extremely backward classes (EBC).
There are about 2.75 lakh EBCs in the Ganga belts of Bihpur and Bhagalpur. Primarily NDA voters till the last Lok Sabha election, the EBCs seem inclined towards the RJD which has fielded Bulo Mandal, a former Bihpur MLA, who is a Gangota, an EBC. On the other hand, the RJD may win Muslim votes too as the JD(U) candidate Abu Qaisar, a local builder who unsuccessfully contested the 2010 assembly election and crossed over from the RJD just before the ticket distribution, is perceived to be weak by Muslims and unlikely to beat the BJP. "We will vote for a candidate who can stop the BJP. Qaisar simply can't," says Mustakin Ahmed, a Bhagalpur resident.
Muslims number about three lakh and the Yadavs over 2.5 lakh in the constituency. Together with the EBCs, they make up 8.25 lakh of the population. In contrast, upper castes and OBC baniyas, taken as base BJP voters, number over 3.5 lakh.
With the numbers not in his favour, Shahnawaz is banking on the Narendra Modi factor. He has promised voters that once be becomes a union minister, he would bring development to the city. "If the Modi factor is able to split the Gangota and Yadav vote, and consolidate the EBCs behind the BJP, Shahnawaz may win. Or else, Bulo Mandal has the clear advantage", says Rajiv Siddharth, a senior Bhagalpur journalist.
Despite Muslim resistance to Modi, Shahnawaz is wooing the community. Last week, he held a meeting with Muslim social and religious leaders. In 2009, Shahnawaz had got some Muslim votes as an NDA nominee.
At the Modi rally here on April 15, Shahnawaz blamed the Congress for the Bhagalpur riots. Modi, on the other hand, did not mention the riots though he attacked the Congress throughout his speech. Modi addressed Shahnawaz along with "mitron" in his opening remarks, but left the Bhagalpur candidate out in the rest of the speech. The well-attended rally did reflect the urban and semi-urban support base for BJP.
To keep the Modi wave "at bay", Bhagalpur may go the way of neighbouring Kishanganj, where JD(U)'s Akhatarul Iman withdrew his candidature with a call for "unity of secular votes".
Though there is little chance of …continued »