Sasaram youth question Meira Kumar, think Narendra Modi has answers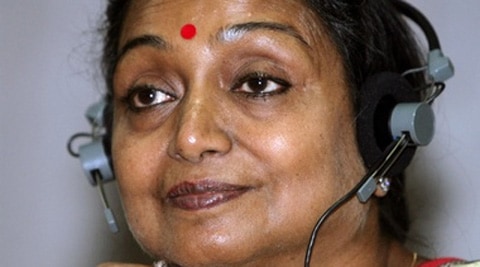 Meira Kumar. (Photo: PTI)
A couple of hours after Narendra Modi had left Sasaram last Thursday, his young audience made its way to the railway station to join others at the onset of dusk.
At the far end of platform number 2, under lamp posts, there were about half-a-dozen groups, each comprising 40-50 young students. The quiz was on: What is Rh factor related to? How many bones does an adult have in the body? What causes scurvy? Which tree bark is used to make the cork of a bottle? Answers came in a chorus.
Another group was dealing in a different subject: who was the first woman Prime Minister in the world? Sirimavo Bandaranaike was difficult to pronounce, leading to loud mumbling and that prompted the quiz master to hurriedly move to the next question — who was the longest-serving PM of India?
It went on from 6 pm to 8.30 pm uninterrupted, except for short pauses whenever a train trundled past. And this has been going on every evening at Sasaram railway station for years.
These youngsters recalled how Modi had hit the nail on the coffin Thursday, talking of "darkness under lights" in Sasaram which has been represented for several terms by Babu Jagjivan Ram and for the last 10 years by his daughter and Lok Sabha Speaker Meira Kumar.
These students, coming from faraway places to stay in one-room rented accommodation in Sasaram to prepare for competitive examinations, have created an opportunity out of adversity. With lights going off at crucial hours in the evening, they gather at the railway station under the lampposts to quiz.
What better place to prepare for the Railway Board exams than a real railway platform? Those aspiring for banking and SSC jobs also make it to the platform. They don't seem to grudge their MP or MLA for these power outages any more. They believe it's going to change.
"Yes, power has been a huge problem not just here but in villages also. People keep batteries to recharge the mobile. We have droughts. Modi is talking about all this. Not just us, the country needs a change. The UPA got 10 years. He (Modi) needs a chance now," says 22-year-old post-graduate Pushpendra Kumar, who is aspiring for the job of a railway assistant driver.
Ask about Rahul Gandhi and his group starts grinning. "This time for Modi. Has Meira Kumar sent you?" asks one of them.
So do you prefer Chhedi Paswan – the BJP candidate who had earlier been an RJD and then a JD(U) legislator – to Meira Kumar?
"Chhedi has only looted. I have not seen a more chotta (worthless) leader like him. But we will vote for him to elect Modi," says 20-year-old graduate Upendra Tiwari. "Meira Kumar's and Chhedi's sons will get reservation but a poor Brahmin's son will not. Rajnath Singh at least talks about reservation for the poor."
"Modi makes Pakistan tremble in fear. Our first target is Pakistan," says M.Com. student Rahul …continued »