Sahabuddin wife fights to regain his fortress, BJP's Yadav banks on M-Y split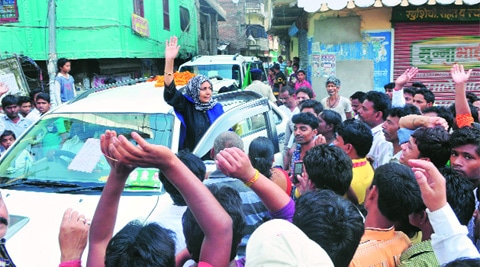 Hena Sahab, RJD candidate, campaigns in Siwan. Prashant Ravi
Big iron gates at the house of incarcerated former RJD MP Mohammed Sahabuddin at Anand Nagar in Siwan opens and an SUV carrying his wife and RJD Siwan candidate Hena Sahab emerges. She is wearing a sari and her head is covered.
She is on her way to campaign in her second attempt to "regain" the lost fortress of her husband who represented the constituency from the nineties until his conviction in 2008 in a criminal case. Sahabuddin who was convicted in three more cases, is serving life term in Siwan jail.
On Sunday, he was transferred to Gaya jail to ensure "free and fair poll" with BJP alleging the former MP was "threatening" people from jail.
In 2009, Hena was given the RJD ticket at the last moment and hardly had time to campaign. She lost to Independent candidate Om Prakash Yadav, now the BJP candidate, by over 43,000 votes.
She has been interacting with voters with more confidence this time. Though RJD chief Lalu Prasad addressed some public meetings in Siwan, Hena has been largely campaigning on her own mostly door-to-door or by holding street corner meetings. She senses an RJD resurgence and hopes Siwan is regained.
"I am a daughter of Siwan. Please never think of me as someone who comes from a big family. I am one of you. Place your trust in me and let the lantern (RJD symbol) glow this time," she says in Ambedkar Nagar, a Dalit basti. Her chaste Bhojpuri helps he connect easily with the audience. A plastic chair is placed for her but she prefers to stand.
Hena belong to Purana Quila area of the town and hence calls herself a daughter of Siwan. She says: "Do not think I am bade ghar ki beti or Sahabuddin's wife. I have no big powers but the desire to work for the constituency."
"Vikas ki Ganga bahegi agar aaplog mujhe mauka denge (Development will flow if you give me a chance)," she said interacting with a Dalit woman. She asked them if they had any queries. None had any.
Amid "Lalu-Rabri zindabad, Dr Sahabuddin zindabad" slogans, Hena moves to Rajendra Nagar colony that has a mixed population of Hindu castes. She talks to elders in Bhojpuri. Youngsters and women follow her. She does not mention her rival Om Prakash Yadav, who joined the BJP just before the elections.
Hena's next destination is Fatehpur bypass. She stops at the main road to instruct supporters about the programme. As she reaches Fatehpur, which has Hindu and Muslim population, enthusiastic supporters plan to weigh her in laddoos. The balance is decorated with the RJD's green flag. She hesitatingly sits on one side of the balance. "Thik nahi lagta hai. Ise rahne dijiye (it is not proper to be seen getting weighed. Please do not click)," she tells camerapersons and then proceeds to answer media queries.
She …continued »