Rolling back the culture of freebies a challenge for new govt: Shourie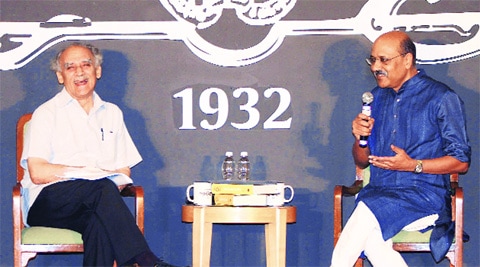 Former union minister Arun Shourie with The Indian Express Editor-in-Chief Shekhar Gupta at the launch of Anticipating India, a selection from Gupta's National Interest column, in Mumbai on Tuesday. Amit Chakravarty
As the general election approaches its climax, former union minister Arun Shourie said on Tuesday that one of the biggest challenges before the new government would be to reverse the tendency of handing out freebies to people.
Shourie was in conversation with The Indian Express Editor-in-Chief Shekhar Gupta at the launch of Gupta's book Anticipating India — The Best of National Interest at the Trident in Nariman Point, Mumbai.
Top corporate executives including Deepak Parekh, Mukesh Ambani, Uday Kotak, Ajit Gulabchand and Citibank's Pramit Jhaveri were present for the launch.
"The general tendency of the political class has meant that you go on telling everybody about his rights and his ability to get money without learning a new skill, without putting in an effort either through reservations or through doles or free employment. Reversing this is going to be one of the great challenges for any meaningful government in India," Shourie said.
"If Mr Modi becomes the prime minister, all his reputed strength will have to be to change the direction of this super tanker to a direction where a person expects to earn money only by working and acquiring necessary skills."
But he added a rider: "Even a strong prime minister with great moral authority like Mr (Atal Bihari) Vajpayee could not disregard the glamour of the political class in general."
The sign of hope, Shourie felt, lay in the fact that the "current fiscal constraint was such that it would make it impossible for governments to continue this course, and would force everybody to think".
The difficulty, according to Shourie, was that the political class did not realise the situation it faced. "In five years, we would have 120 million people joining the labour force. We have been creating one and a half to two million jobs every year for the past seven years. If the same trend continues, it would mean we have created only seven to 10 million jobs when 120 million people have entered the labour force. The political class has to wake up to this challenge," he said.
"The problem was the darbari culture of Indian politics, where the moment you were a minister or a senior civil servant, everybody around you was just your courtier, and you only heard good things."
Shourie felt the BJP had stolen a march over the Congress and the other parties by promoting leaders from the states. "Ten years ago everybody would ask who is the successor to Vajpayee and (L K) Advani. I would always say leaders would emerge from the states."
In the Congress, by contrast, state leaders had ceased to emerge, Shourie …continued »