Rohini, Nandan's 'secret weapon'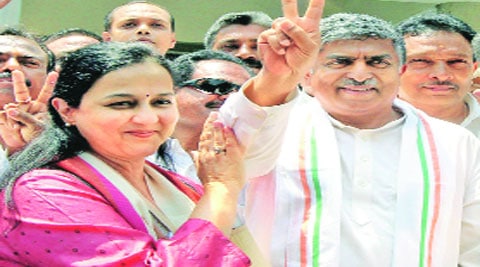 Rohini with Nandan Nilekani. PTI
Nandan Nilekani, 58, co-founder of Infosys and former UIDAI chief, is pulling out all stops in the Bangalore South fight, whether it is the use of analytics, voter-targeting technology or a strong team that plots the campaign's every move. His secret weapon, however, is turning out to be a diminutive woman with a recently fractured arm: his wife Rohini.
The salwar kameez-clad Rohini, 54, is driving a crucial element of the Nilekani campaign — the volunteer group called Together With Nandan. Her broken arm has left her undaunted and has earned her the moniker of "one-woman , broken-arm aadmi party" in the team.
"Rohini plays a crucial, critical role in the campaign," said candidate Nilekani who gives her credit for making a strong case for him. "She is tireless, strikes empathy with voters and can connect with them in fluent Kannada, Hindi, Marathi, Urdu…" he told this newspaper.
When her husband talked about contesting for a seat from Bangalore, her first response was of "fear and uncertainty," Rohini told The Indian Express. "We all know that politics can be rough and dirty and I was not sure I had the stomach for it." But a few turbulent months later, she firmly decided to back him. "He has to do this for the country and society because he has the exact skills and integrity we need in our political leadership."
In the sweltering Bangalore heat, Rohini, a former journalist who recently stepped down from her role as chairperson of non-profit children's publisher Pratham Books, is hitting parks, apartment complexes and neighbourhoods for a "touch" campaign — chatting with morning walkers, going door to door, addressing groups of women. Accompanied by friends such as writer-director Girish Karnad, she is targeting areas such as Padmanabhanagar, Basavanagudi and Jayanagar, traditional strongholds of the BJP. "We must all vote to send honest, clean, capable people to Parliament," she told residents at one apartment complex. "And I have inside information that Nandan Nilekani is such a person."
On the trail, she is a perfect foil for her husband. He is calm and controlled, she animated and passionate. He comes across as aloof but her people connection is much warmer. "She is the secret weapon of Nandan's campaign," says Raghu Tenkayala, a lawyer and key aide in the Nilekani campaign.
Voters she approaches in parks and at homes don't recognise Rohini though her T-shirt, cap and pin proclaim her affiliation. Tactically, there is no Congress symbol or mention anywhere in her campaign. "Do you have a minute?" she asks, "Can I talk to you?" Then she adjusts the arm she fractured when getting out of bed, and begins, "My husband is contesting…"
Like other IT billionaires in India, the Nilekanis had closely guarded their privacy so far. But the election have required Nilekani to declare his every asset. It is now official that the couple is worth Rs 7,700 crore. Rohini herself holds 1.3 per …continued »