Road to 7 RCR marked out, from 200 m away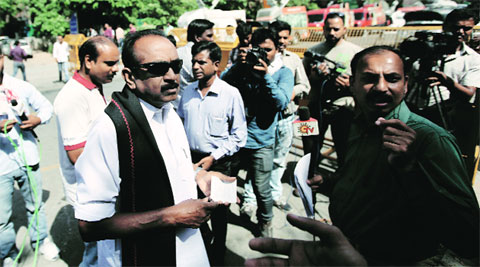 The crowd the officer speaks of is a massive media contingent that stands across the road from the gates, having fought for space with security personnel. Express photo: Tashi Tobgyal
Only a few days separate Narendra Modi from 7 Racecourse Road. The journey though will not be long or arduous, for Gujarat Bhawan, the building that serves as his seat of power now, lies only 200 metres away.
Until three days ago, it was just another bhawan on a street filled with them — Karnataka, Tamil Nadu and Tripura being its neighbours — with daily visitors only those who wanted a taste of Gujarati cuisine. No longer. From a place brimming with hospitality, there is now a business-like air with access inside the three wooden gates strictly regulated. The canteen is shut to outsiders. There is no space for frivolity in any of the 81 rooms of the bhawan. All of them are now reserved for bureaucrats and security of Modi, prime minister-in-waiting.
Over the weekend Gujarat Bhawan has turned into a fortress. Grim-faced personnel that man the yellow barricades outside, jovial till yesterday, now refuse to speak beyond a few words. "There is very tight security, and a close eye is being kept on us. I can't talk much, because my senior will see. I can only tell you the Delhi police are largely outside. Inside his personal security is the Gujarat police. There are men in plainclothes too, milling with the crowd," says a Delhi sub-inspector.
The crowd the officer speaks of is a massive media contingent that stands across the road from the gates, having fought for space with security personnel. Intermittently, the argument breaks out again, both sides agitated and nervous. "Sir, this is the prime minister's security. You have to understand and stay away from the front gate. You lot have already blocked traffic by parking your OB vans on both sides," says an officer to the media. One of the media contingent argues back, "This assignment is important to us as well. But if we can't even see the gate, will you call and tell my boss which leader has come to meet Modi?"
The tension is broken at regular intervals, when a vehicle enters the gate, and the crowd rushes to identify the inhabitants privileged enough to gain entry. But even as mikes, cameras and even just curious onlookers make a beeline for the vehicles window, the make of the car brackets most. "Bureaucrats arrive in either a Swift Dzire or SX4, or an Ambassador and their vehicles are mostly white. Big cars are those of politicians," explains Saurabh Jain, who is eating lunch at a dhaba across the street. His hypothesis isn't far off the mark. Union Home Secretary Anil Goswami came in a white government …continued »