New Delhi |
Published: January 20, 2014 1:07:23 am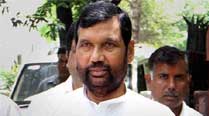 Seeking to position his party in neutral gear on the alliance issue in Bihar ahead of the Lok Sabha polls, LJP chief Ramvilas Paswan Sunday said it was for the Congress to decide whether the secular alliance in the state will include Lalu Prasad's RJD or Nitish Kumar's JD(U).
Sources in the LJP have said the party has opened its channel of communications with the JD(U), which is also keen on a tie-up with Paswan. Nitish walked out of the NDA in June last year bringing to an end his party's 17-year-old ties with the BJP in protest against Narendra Modi's elevation the party's campaign committee chief.
"Our alliance with the Congress is decided as far as we are concerned. Both parties will remain together. As far aligning with the JD(U) or the RJD is concerned, the LJP has left this decision to the Congress.This much is clear for us that we will go with the Congress. If the Congress goes with the JD(U), then it will be a Congress-JDU-LJP alliance, if the Congress goes with the RJD, it will be a Congress-RJD-LJP alliance for Bihar. Whichever of the two party joins the Congress-LJP grouping, it will have strength to stop the march of the BJP in Bihar," he told PTI.
This is the first time that Paswan has spoken categorically on the issue of alliance in Bihar amid indications that the LJP and JD(U) were warming up to each other. Two Rajya Sabha MPs from the JD(U) Ali Anwar Ansari and Sabir Ali were seen at Paswan's house this week. Paswan also attended an event with JD(U) MP K C Tyagi Saturday. Both Prasad and Paswan have met Congress president Sonia Gandhi over the alliance issue but there was no categorical answer from Gandhi.
For all the latest India News, download Indian Express App