Riot wounds raw, victims jump into campaign for both BJP, SP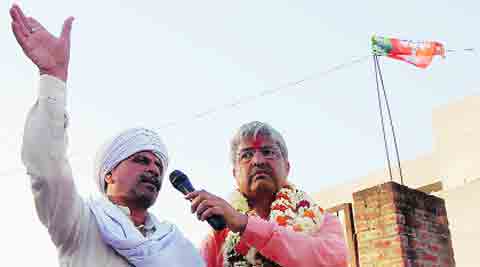 Ravindra Singh, father of riot victim Gaurav, campaigns with BJP candidate Bhartendra Singh in Bijnor on Tuesday. Gajendra Yadav
In the final leg of the campaign before western UP goes to polls, victims of the Muzaffarnagar riots of September 2013 are aligning themselves openly with political parties and candidates.
The father of a Jat youth whose killing allegedly triggered the violence is campaigning for the BJP candidate. And the father of the first Muslim victim of the riots is telling community members that they must elect a Muslim because no one else can be trusted.
At an election meeting for Bhartendra Singh, BJP candidate for the Bijnor Lok Sabha seat, Ravindra Singh asks people to vote "kamal" (lotus) to ensure they do not suffer the same fate as him.
Ravindra is the father of Gaurav, one of the two Jat men whose deaths — along with that of a Muslim youth called Shahnawaz — in Kawal-Malikpura were the first in the violence that claimed nearly 60 lives.
Bhartendra Singh is an accused in the riots.
"I am asking you, all of you who do not want to vote for kamal, tell me, and I will then tell you what I suffered, how my son was snatched away from me for trying to fight for his sister's honour," Ravindra Singh said at Badla in the Hastinapur assembly segment on Tuesday. "The government did nothing for us… I am asking you to vote for the BJP so that you do not suffer my fate."
Ravindra says he has been visiting villages for all of the past week, sometimes with Bhartendra, sometimes by himself. He speaks of the "false" rape cases filed against Jat men by Muslim women from Fugana.
"Men as old as 75 have been accused of rape. When our women went to protest at Fugana police station, they were lathicharged. Only the BJP stood by us," Ravindra said.
Bhartendra began all his speeches by recalling the deaths of Gaurav and the other Jat youth, Sachin.
"All those who come to you today for votes, where were they when this poor man (Ravindra) suffered? Can you imagine the plight of a man who has had to light the funeral pyre of his son, and has then had false cases of murder slapped on him? The state government distributed Rs 100 crore in compensation; why were they so biased against us?" Bhartendra said in Parikshitgarh in Hastinapur.
At the home of Mohammad Salim, the 70-year-old father of Shahnawaz from Kawal village, the election campaign has kept wounds open and tempers high.
Salim says he and a few of Shahnawaz's seven brothers have been going to Muslim homes in the area to "ensure that Muslims vote only for Muslim candidates".
Shahnawaz was allegedly killed by Gaurav and Sachin, provoking the Muslim mob that lynched the two Jat youths.
"I am not campaigning for anyone, I am here …continued »