Riot victims fight fear to vote, get glimpse of home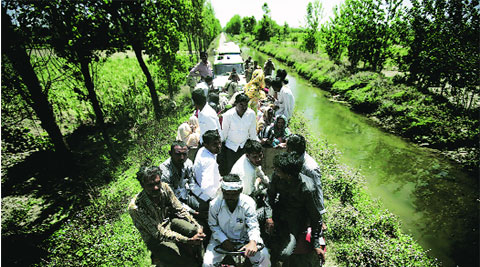 Muzaffarnagar riot victims living in Palda relief camp on their way to Kutba village to vote on Thursday. (TOP) First-time voters in Delhi. (IE photo: Praveen Khana)
For seven months, the 8 kilometres to Kutba was a bridge too far.
At one end of the journey, was what they had become — daily wage labourers living in tents, at the mercy of the elements and racked by fear. Waiting for them at the other was a reminder of who they once were — farmers with land to tend, and a roof to return to.
On Thursday, for the first time since last year's communal riots, in which more than 15 people in the village were killed and their homes reduced to ashes, 50 Muslim men and women, and one child, mustered the courage to make the trip to what they once called home, to vote.
They huddled together in a tractor with four vehicles in front, three at the back, and 50 policemen surrounding them.
If polarisation is a key issue in the 2014 Lok Sabha elections, it is in your face in Muzaffarnagar. Fifty-nine people were killed in the Jat-Muslim riots last September and thousands of Muslims were displaced and forced to live in makeshift camps for months. And the communal tension has been a theme during the campaigning.
For this group of 50 people, deliberations on whether they should vote at all began early in the morning, when they found their names were not in the voters' list in Palda village where they now live in a relief camp.
"At 10 am, I called the SDM and told him our names were not in the list. He told me that nothing could be done, and we would have to go to Kutba to vote. I told him we had sworn we would never return to a place where our families had been killed, and our lives taken away. But he said his hands were tied. It was up to us to decide," said Shahnawaz Hassan, the eldest in the camp.
An hour of furious deliberation later, a phone call was made to Alok Priyadarshi, Superintendent of Police (Rural). "Sir, when you were here the day-before, you had said call me if you want to go to your village, a vehicle will be arranged. We want to go, can you please come," Hassan said over the phone.
The wait was short, 15 minutes in all. But even if the words they said were encouraging, the elders' words betrayed fear.
"Arre bhai, I'm telling you nothing will happen. Savdhani barto, bas (Just be careful). No child will go with their mother, and take these (pointing to his skullcap) off. Just stay together," said Akbar Khan, sitting at the helm of the tractor. No questions were asked. The only exceptions were six-year old Armaan, too ill to leave …continued »