Respect, Rahul Gandhi style: Does not attend PM's farewell, goes 'out of town'
Rahul Gandhi on Wednesday skipped farewell dinner of PM Manmohan Singh.
Congress vice-president Rahul Gandhi was conspicuously absent from the farewell dinner hosted by party chief Sonia Gandhi at her 10, Janpath residence for Prime Minister Manmohan Singh on Wednesday, two days before the poll verdict. His decision to skip the dinner and go "out of town" left senior leaders of the ruling party — which is staring at perhaps its worst defeat ever — fumbling for answers.
Embarrassed Congress leaders said Rahul was out of town, but offered no reasons. Almost all the party's ministers and members of the Congress Working Committee attended the dinner.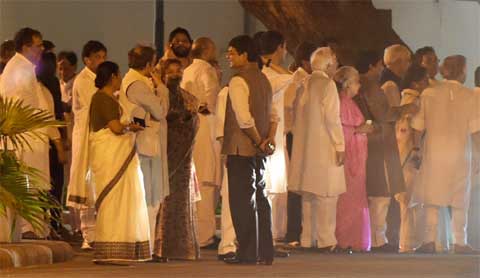 Officials in the Prime Minister's Office said Rahul met Singh on Saturday and expressed his inability to attend the dinner as he would be out of town. Party sources said he is abroad, taking a short break after the nearly three-month-long campaign.
His absence comes amid a rather choreographed campaign in the Congress to shield Rahul — who led the party's poll campaign —from the blame for the party's possible rout. While party leaders have already started chanting the "collective responsibility" mantra, Rahul's absence on Wednesday may perhaps be an indicator of what is in store for the grand old party.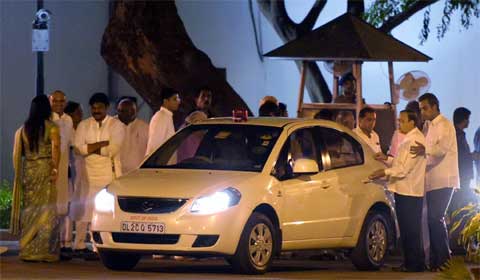 Those close to Rahul insist that he has high regard and respect for Singh, but his public denouncement of the ordinance brought to save convicted lawmakers from disqualification had injected an element of frostiness in their relationship. Singh had earlier declared that he would not seek a third term in office even if the UPA is voted back to power.
When asked about Rahul's absence, senior leaders and union ministers were left searching for words. "I do not know why he did not attend," said Union Minister Kamal Nath.
Senior Congress leader Shakeel Ahmed said he was not aware about Rahul's whereabouts, but added that it should not be made a political issue. Union Minister R P N Singh echoed his views.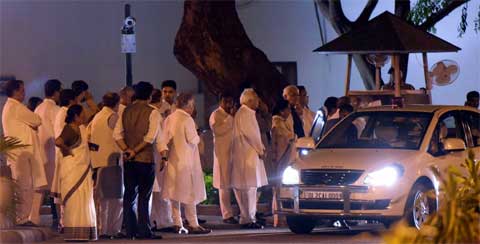 "After three months of grueling campaigning, Rahulji is out of town for two days. (He) will be back tomorrow. Rahulji had already met the honourable Prime Minister on May 10 to personally thank him for his services and contribution rendered to the nation," said AICC general secretary and head of its communication department Ajay Maken.
But even the Congress's allies seemed unconvinced. "If you knew he was not attending the dinner and he had explained his absence to the PM earlier, put out the statement before the news breaks," tweeted Jammu and Kashmir Chief Minister Omar Abdullah.
At the farewell dinner, Sonia presented a memento and a citation signed by CWC members and the union council of ministers. HRD Minister Pallam Raju read …continued »