Reel-life politics: Top 5 political characters from Bollywood
Here's a look at top five political characters from Hindi movies which fail to get erased from our memory.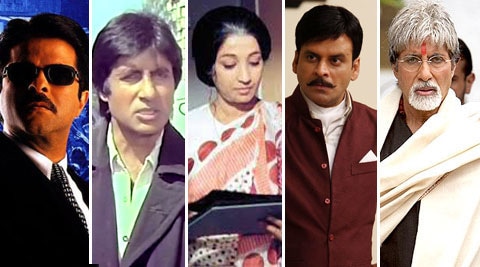 Here's a look at top five political characters from Hindi movies which fail to get erased from our memory.
The poll fever is running high. Be it across social media, ad world, or FM radio, politics is certainly the flavour of this season. But be it the election time or even otherwise, the Indian polity has often inspired the Indian film fraternity. Films inspired by politics have been made and lauded by both critics and the masses. From legendary actor Dilip Kumar's 'Leader' to new-age heartthrob Ranbir Kapoor's 'Rajneeti', several films have been made which have struck a chord with the audience and at times, left a lasting impact. And from such films have emerged some fictional characters which fail to get erased from our memory. Interestingly, there have been very few such characters who did not have grey shades, even as attempts have been made to highlight more of their positive traits.
Here's a look at some such characters from Hindi movies:
1. Aarti Devi – Suchitra Sen (Aandhi – 1975):
This is probably the most outstanding reel-life political character played by an actor on the silver screen. Aarti is the spoilt daughter of a politician who goes on to become an established politician herself. It is believed that the character played by Suchitra Sen had striking similarities with then prime minister Indira Gandhi and the movie was banned during the Emergency because of this. Though the love-separation-and-reunion story of Aarti and JK (Sanjeev Kumar) constitutes the backbone of the story, the political angle in it gives the movie a texture completely different from the usual. The protagonists of the film get separated after marriage as Aarti fails to adjust in a relatively lower-class lifestyle of JK, only to go back to her politician father and resort to what's usually referred to as dynasty politics. In the movie, the character of Aarti Devi is shown at the helm of her party, exercising complete control. A larger than life politician, who does not allow her rivals and opponents to stand a chance against her political ambitions, and can compromise over her personal life with ease to ensure that the political tide remains in her favour.
2. Azaad – Amitabh Bachchan (Main Azaad Hoon – 1989):
The character of Azaad may not be a politician, but it is depicted as someone who shakes the political fraternity with his statements and action as a common man. Subhashini (played by Shabana Azmi) is a journalist who starts a column in her newspaper which carries letters written to her by some Azaad, actually a pseudonym used by her to save her job after a management shift. She even writes in the column that Azaad would commit suicide from the tallest building of the city on January 26 in protest against the misdeeds of the politicians. Eventually, this fictional Azaad gets immensely popular and Subhashini is asked to produce him in person. Then begins the search for someone who can act to be Azaad, which ends with an unemployed youth. Bachchan, who is referred to as Azaad throughout the movie, agrees to pretend being the letter-writer for some money and food. But later, Azaad, whose public speeches and thoughts inspire the common man, goes on to become a phenomenon. As the film progresses towards the climax, Azaad becomes a leader of the masses and even commits suicide.
3. Shivaji Rao – Anil Kapoor (Nayak: The Real Hero – 2001):
Think of this character now and what comes to our mind is Aam Aadmi Party founder Arvind Kejriwal. So many similarities have been drawn between the character of Shivaji Rao and Kejriwal that it inspired a spoof titled Nayak 2 – Common Man Rises. Shivaji Rao, the protagonist of the film, is a TV news reporter-cum-anchor who is given a chance to become the Chief Minister of Maharashtra by a corrupt and arrogant politician Balraj Chauhan, played by Amrish Puri. After becoming the CM for a day, Shivaji takes care of issues that affect the populace everyday, giving the slum their rightful apartments, getting jobs for the unemployed, suspending inefficient and corrupt government officers, and at the end of it, gets Chauhan arrested on charges of corruption. But as the day gets over, Chauhan returns to power to nullify all orders by Shivaji, who later contests election to become a full fledged CM. The character of Shivaji goes through several personal sacrifices, including his parents' killing, to survive politics and in the end, develop his state.
4. Subhash Nagre – Amitabh Bachchan (Sarkar – 2005):
Amitabh Bachchan has played the character of Subhash Nagre, who is referred to as Sarkar. And as the name suggested, Nagre is depicted as someone above the law and government of the state. The character of Subhash Nagre gained instant popularity, even before the release of the film, owing to its similarities with Shiv Sena founder Balasaheb Thackeray. The character is shown from being the most powerful figure in the town to someone who is trapped into some big-time trouble, which includes a stint in jail, thanks to nexus between politicians and mafia. As the movie progresses, Shankar Nagre (Abhishek Bachchan), son of Subhash Nagre, takes the revenge for his father. In the climax scene, Shankar is seen having taken over from his retired father as the messiah of the people.
5. Veerendra Pratap – Manoj Bajpayee (Rajneeti – 2010):
The character of Veerendra Pratap, played by critically-acclaimed actor Manoj Bajpayee, is full of grey shades. The film revolves around one Rashtrawadi Party, which has a political family at the helm of it. The party is headed by Bhanu Pratap (Khan Jahangir Khan), whose son is Veerendra Pratap. After sufferring a stroke, Bhanu hands over the command of the party to his brother Chandra Pratap, played by Chetan Pandit, which angers Veerendra, who vows to take over the control of party affairs by hook or crook. The character, played by Bajpayee, uses all tricks in the book to frame those exercising the control of the party, primarily Prithviraj Pratap (Arjun Rampal) and eventually throws them out of the party. Though the film has several political characters, including one of Samar Pratap played by Ranbir Kapoor and believed to be inspired by Congress vice president Rahul Gandhi, the one that stands out significantly is that of the shrewd politician Veerendra Pratap. Though he gets decimated politically and even killed by the end of the movie, Veerendra Pratap emerges as a strong politician who can resort to any means to achieve his political motive.