Rebranding Rahul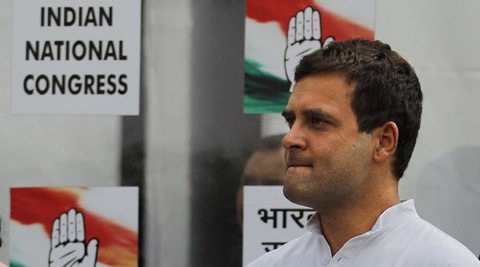 Rahul will have to come out of his R&D mode and dirty his hands with real work on the ground.
Archna Shukla speaks to the men behind the Modi Brand to see if the Congress could have done it any differently
'Chal Meri Luna'
Piyush Pande,
Executive Chairman and Creative
Director, South Asia, Ogilvy & Mather
It was Piyush Pande and team who steered the advertising campaign for Narendra Modi and came up with the winning taglines of 'Abki baar, Modi sarkar' and 'Achche din aane wale hain'. As for his strategy for Rahul Gandhi, Pande says he is reminded of one of his successful campaigns for Kinetic's moped, Luna. "It was a simple tagline — 'Chal Meri Luna'. I will give a Luna and a similar tagline to Rahul and send him off to Amethi. I will ask Rahul to work for his loyalists who have bought into his promise without seeking any accountability in return. Once he has entrenched himself in the hearts of the locals, he will be ready for mass marketing."
'Khud Se Karo Shuruat, Tabhi Banegi Baat'
Prasoon Joshi,
President South Asia, Asia Pacific Creative Director, McCann World Group
Begin with yourself — that is the message from Prasoon Joshi for Rahul Gandhi. "No advertising, no slogan can build a brand that has no internal vigour," says the ad man, lyricist and script writer. "Khud Se Karo Shuruat, Tabhi Banegi Baat — that will be my tagline for him," says Joshi. Joshi and his agency Tag conceived and composed the BJP anthem in which Modi was seen pledging to work for the nation. Joshi says while Modi pitched himself as the leader the country needed, Rahul began defending himself with no clear agenda or goal of his own.
'Find a cool name'
Vijay Chauthaiwale,
Co-ordinator, BJP
Vijay Chauthaiwale, who managed internal communication between Modi and senior BJP leaders in Delhi during the elections, says Rahul Gandhi's name is his biggest failing. "The Nehru-Gandhi brand had a huge connect with Indian voters for a long time. Many from the old generations had an emotional bond with it. But today's young voter has moved on… His family name is his only asset." If he was tasked with building the brand Rahul, Chauthaiwale says he will begin with asking him a few questions about individual identity. "The process of charting out a communication strategy will begin once it is known who he is and what he stands for."
'Move out of R&D'
Manoj Ladwa,
Chief Executive & Partner, MLS Chase LLP, London
"What is the point of marketing a soap if the soap doesn't do what it's supposed to?" asks Manoj Ladwa, the celebrated London-based mergers and acquisitions lawyer who designed and ran the mass media campaign for Modi. Ladwa says Rahul's best calling card will be to "immerse himself with full sincerity as a constituency MP in Amethi". "The neglected people of Amethi desperately need development…Prove yourself, my friend…and this will be your best communication strategy," he says, adding that Rahul will have to come out of his R&D mode and dirty his hands with real work on the ground.
'Bring in Priyanka Gandhi'
Sam Balsara, Chairman and Managing
Director, Madison Communications
"If I was part of Rahul Gandhi's war room, I would send my people out into the market to find out what the people feel about the Congress and Rahul," says Balsara, whose agency managed media-buying for the BJP this election.
Balsara also says he would also advise Rahul to think long-term and put together a 2020 vision paper before the country. Roping in Priyanka Gandhi as one of the brand communicators and chief strategists would also be a key strategy of his communication plan.