Reading poll verdict: Many offsprings of politicos get a thumbs down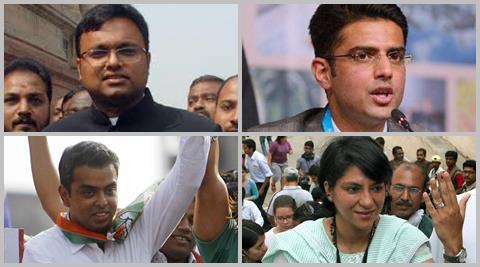 From Sachin Pilot to Priya Dutt to Milind Deora, leaders who couldn't retain their parliamentary seats this Lok Sabha Elections.
This year's Lok Sabha elections saw many of the sons and daughters of Congress leaders failing to retain their family strongholds as party's tally dipped to a historic low of 44 seats out of 543.
Prominent among those who lost the elections are Sachin Pilot, Karti Chidambaram, Sandeep Dikshit, Milind Deora, Priya Dutt and Jitin Prasada.
Sachin Pilot, son of former Union Minister late Rajesh Pilot, contested from Rajasthan's Ajmer constituency. Sachin, Minister of State (Independent Charge) for Corporate Affairs in the outgoing UPA government, lost to BJP's Sanwar Lal Jat by a margin of about 1.71 lakh votes.
Finance Minister P Chidambaram's son Karti also lost elections from Tamil Nadu's Sivaganga constituency. Karti, who had made a debut in the polls from Sivaganga (represented by his father in last Lok Sabha), came in fourth position by securing 1,04,678 votes.
The constituency has been won by All India Anna Dravida Munnetra Kazhagam candidate Senthilnathan PR.
Kerala Governor and former Delhi Chief Minister Sheila Dikshit's son Sandeep lost East Delhi constituency. Sandeep, who lost to BJP's Maheish Girri (5,72,202 votes), came at third position by getting 2,03,240 votes. Aam Aadmi Party's Rajmohan Gandhi got 3,81,739 votes.
Congress Rajya Sabha MP from Maharashtra and former Cabinet Minister in UPA government Murli Deora's son Milind could not retain South-Mumbai constituency. Milind, Minister of State for Communication and Information Technology and also for Shipping, lost to Shivsena's Arvind Sawant by a margin of 1,28,148 votes.
Former Congress Union minister and late actor Sunil Dutt's daughter Priya failed to retain Maharashtra's Mumbai-North-Central seat. Priya lost to BJP's Poonam Mahajan, daughter of former Union Minister late Pramod Mahajan, by 1,86,771 votes.
Jitin Prasada, son of Congress leader late Jitendra Prasada, lost from Uttar Pradesh's Dhaurahra constituency.
Jitin, who was Minister of State for Human Resource Development in the government which resigned on Saturday, secured fourth position by getting 1,70,994 votes.
BJP's Rekha won from Dhaurahra constituency.
In Uttar Pradesh, Congress candidate Imran Masood was defeated by BJP's Raghav Lakhanpal by a margin of 65,090 votes in Saharanpur seat. Imran is the son of Rasheed Masood, who was recently disqualified from Rajya Sabha recently after being found guilty by Supreme Court in a criminal case.
Shruti Chowdhary, grand daughter of former Haryana Chief Minister, late Chaudhary Bansi Lal, lost from Haryana's Bhiwani-Mahendragarh seat. She was at the third position by getting 2,68,115 votes. The seat has been won by BJP's Dharambir (4,04,542 votes), who also defeated Indian National Lok Dal's Bahadur Singh (2,75,148 votes).
In Lakshawdeep, Hamdullah Sayeed was defeated by Nationalist Congress Party's Mohammed Faizal P P by a margin of 1,535 votes. Hamdullah, who is son of late PM Sayeed, a former Parliamentarian, got 20,130 votes.
Assam's Social Welfare Minister Akon Borah's son Manash Borah, who had contested elections from Gauhati seat, lost to BJP's Bijoya Chakravarty by a margin of 3,15,784 votes.
Other than Congress, its ally Rashtriya Janata Dal (RJD) …continued »