Rahul Gandhi won't face heat for Congress debacle, party to ask for a panel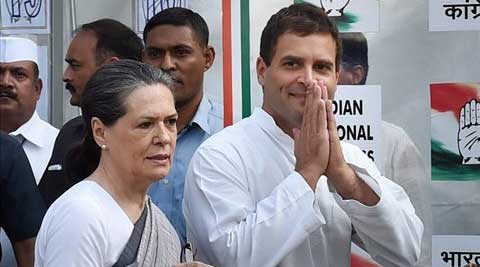 Congress' top leadership is learnt to have drawn up a plan to shield Rahul Gandhi. (PTI)
The blame game has begun in the Congress, even as the party's top leadership is learnt to have drawn up a plan to shield Rahul Gandhi and ensure that his pre-eminence does not come under question immediately.
Indications are that a high-level committee could be formed to look into all aspects of the defeat, buying the top leadership time before acting.
The Congress Working Committee meeting on Monday could give its approval to the panel. Party leaders said there was a possibility that Rahul might offer to step down, but added that they would not let him.
Prime Minister Manmohan Singh submitted his resignation on Saturday morning, describing his 10-year tenure as an "open book". In a brief televised address to the nation, Singh thanked people for the "love and kindness" bestowed on him, an "underprivileged child of Partition", and said he would never be able to repay the "debt" of being "empowered enough" to occupy the highest office.
The Congress panel looking into the party's defeat could be on the lines of the A K Antony committee appointed after the 1999 elections. It had suggested several structural changes and looked into the issue of coalitions. Another committee under Pranab Mukherjee's chairmanship had been set up to look into reasons for the Assembly poll debacle in four states in 2003.
"We must find out where things went wrong and then follow-up action must be taken," senior Congress leader Satyavrat Chaturvedi said.
The Congress central leadership's (read Rahul's) "lethargic approach" on stitching up alliances in Tamil Nadu, Bihar and Telangana, and organisational weaknesses which resulted in failure to convey the party's message effectively are being questioned openly now.
"DMDK chief Vijayakant came to Delhi and waited for a whole week, but no one bothered to talk to him. He is a force to reckon with in Tamil Nadu. What was the result? He went to the BJP," K Jayakumar, an AICC secretary from Tamil Nadu, told The Sunday Express. He was among the 39 Congress candidates who lost in Tamil Nadu. The party didn't win a single seat in the state.
"It was a blunder. It is the fault of the general secretary in charge of the state (Mukul Wasnik), he should have taken the initiative. Wasnik, I would say, was a total failure. It is because of our arrogance that we lost. We should have known the ground reality. We have just 10 per cent votes in Tamil Nadu," he said.
Directly targeting the high command for the "insulting defeat", Jayakumar added: "I don't know what those people sitting at 15, Gurdwara Rakabganj Road, were doing. They should all be thrown out." 15, Gurdwara Rakabganj Road, is known as the Congress war room.
The AICC leader further said that those party leaders who had not contested …continued »