'Rahul tours didn't touch soul of India'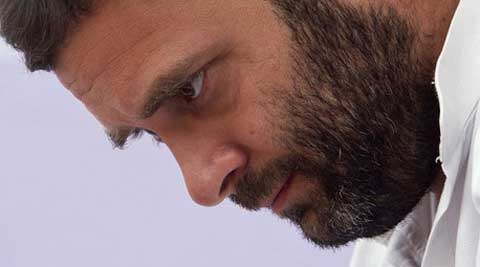 Rahul only took into confidence members of his young team.
While celebrations are on at the BJP headquarters, No 24 Akbar Road (Congress HQ) is a picture of gloom. The Congress is weighed down by the the rout, the worst for a party that has been out of power for only 18 of India's post-Independence years. A few days from now, BJP's hardcore Hindutva government will come to power in Delhi. Though it is a matter of concern that the baton of this secular country is being handed over to a Hindutva party, the mandate should be respected.
The Congress's defeat in the elections to the 16th Lok Sabha is without a parallel. The party that once controlled the destiny of the country could only get 44 of the 543 seats in the Lok Sabha. The big question is, why was the party with a 128-year-old tradition abandoned by the people? The usual refrain — that Congress could not take its achievements to the people and that the leadership was ready to quit — will not be enough to heal wounds. The fall of the Congress to its present low took even the BJP by surprise.
It is a good sign that the party will see an overhaul. Only a detailed examination will bring out the real reasons for the rout. It is important for the Congress to stand for the secular, democratic tradition of the country. That tradition should not be left to weaken.
It has to be understood that Congress vice-president Rahul Gandhi's one-man campaign did not benefit the party. While the effort needs to be appreciated, Rahul should have realised that these tours were not touching the soul of India.
Rahul only took into confidence members of his young team. Unlike in 2009, the election war room didn't run from Gurdwara Rakab Ganj Road but from Rahul's Tughlak Lane residence, where senior leaders with decades of experience were denied access. Jairam Ramesh, who had made the strategy of the campaigns of 2004 and 2009, was kept out.
The Rahul brigade did not learn from the party's failures in various state elections. By projecting Rahul, who has never been even a minister of state, the Congress made it easier for Modi to implement his high-tech strategies. Compared to Modi, the Congress failed in effectively using modern technology.
While Modi turned the allegations against him to his advantage by consolidating the Hindu vote, the Congress could not thwart such campaigns. It's a matter of concern for secularists that the Congress has been ineffective in taking on the BJP's campaign. The Congress failed to turn the election into a battle between two ideologies.
The Congress did not have an attractive slogan for this election. The party that designed such creative slogans as 'Garibi hatao', 'Congress ka haath, aam aadmi ke saath' faced a vacuum on that front. On the other hand, the BJP had gained the upper hand with new slogans. The leadership …continued »