Rahul takes on his rivals in Amethi; questions source of funds for Modi's campaign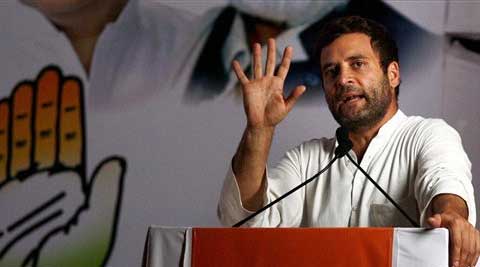 Rahul said that his opponents would not be seen in Amethi even a day after the polling was over. (PTI)
After days of campaigning by sister Priyanka Gandhi in Amethi, Congress vice president Rahul Gandhi on Saturday addressed the voters in the region for the first time after filing his nomination papers. The Gandhi scion continued his attack on BJP PM candidate Narendra Modi, and took on his rivals, claiming they would never be seen after polls.
Without naming Smriti Irani or Kumar Vishwas, Rahul slammed his rivals, saying "people come and go, but I will give my whole life to Amethi". He said that his opponents would not be seen in Amethi even a day after the polling was over. "Only Sonia ji, Priyanka and I will be there for you," he said.
Attacking BJP and Narendra Modi over election expenditure, Rahul alleged that corporates were pumping money into the saffron party's campaign and asked it come clean on the source of funds.
"They (BJP) do politics of two-three corporates as they gift them 'mota paisa' (hefty money). From where is the money for big cutouts and posters coming," Gandhi, who arrived in his constituency for a two-day campaign, said at an election rally.
"Please ask BJP where do they get crores of rupees for such posters. Is it Modi's money?…. They ask us why we give free money to poor through MNREGA, food guarantee scheme. Poor does not get free money. They work for it whereas free funds are given to Adani," he said.
"I am not against corporates. But they should be given facilities following rules and regulations. In Gujarat, it was Adani who is getting facilities and not the poor", Gandhi added.
He further accused the opposition of indulging in politics of anger and hatred, pointing that he "never gets angry" as he believes in "politics of love". "Did I ever get angry or abuse anyone", he said addressing voters in Amethi.
During his speech, Rahul again raked up the Modi-Adani row, accusing the Gujarat Chief Minister of giving to the industrialist more than what the UPA had spent on MNREGA. He also alleged that BJP's prime ministerial candidate plays politics for selected industrialists. "On the other hand we want to benefit all industrialists", he said further.
Describing the elections as a fight between two ideologies, Gandhi said that while Congress wanted to take Hindus, Muslims, Sikhs and Christians along, the other side was stoking politics of "anger".
"Their (BJP) leaders used to criticise, abuse and keep poor at bay while we (Congress) talk of unity and to take country forward," Gandhi said. "The difference it that they want to keep the ATM with themselves, while we want to give the ATM to the poor", he added.
"They want to create a divide between Hindus and Muslims and want to see them fighting. They want brother …continued »