Rahul reminds BJP of 2004, says its campaign bubble will burst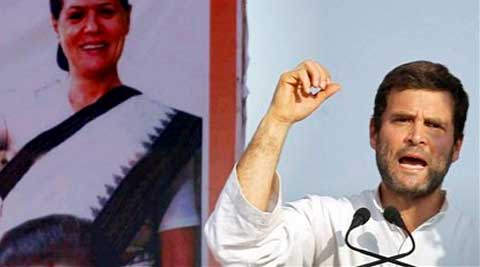 Rahul and party chief Sonia Gandhi also targeted the BJP's prime ministerial candidate Narendra Modi, saying he represented an exclusionary ideology that would pit people against each other and harm India. PTI
The congress party Wednesday launched a scathing attack on the BJP's election strategy, with vice-president Rahul Gandhi expressing confidence that the bubble of the BJP's upbeat campaign would burst soon like it had in 2004 and that the Congress would return to power.
Rahul and party chief Sonia Gandhi also targeted the BJP's prime ministerial candidate Narendra Modi, saying he represented an exclusionary ideology that would pit people against each other and harm India.
But the attack on Modi seemed half-hearted as it was done mostly through veiled references and without referring to hot-button issues such as the 2002 communal riots in Gujarat.
"We have to admit the India Shining campaign was a brilliant campaign," Rahul said, referring to the NDA's re-election pitch in 2004. "But the day of the election, it evaporated. They have the ability to carry out such campaigns. Just like the balloon of the India Shining campaign exploded, I can say this will also explode."
Attempting to put on a brave front at a time when the Congress is facing one of its toughest electoral battles, Rahul also sought to dispel the notion that allies were veering towards the BJP and that the Congress was being left to fight alone. This perception was merely "projection", he said.
Sonia and Rahul were speaking to reporters along with Prime Minister Manmohan Singh after Sonia released the party's poll manifesto. The manifesto itself did not promise anything strikingly new. It reaffirmed faith in the UPA's welfare-based model of governance and laid emphasis on its tested formula of rights-based legislation.
The party claimed it had implemented 90 per cent of its 2009 manifesto and laid out a 100-day agenda for growth on its return to power at a tame ceremony marked by the absence of many of its ministers.
"Modiji is an individual but he represents an ideology which is exclusionary. An ideology that makes people fight with each other; an ideology that will harm India…Every Congress worker will aim to defeat this ideology," Rahul said in response to a question.
Asked if he agreed with Manmohan Singh's statement that Modi coming to power would be "disastrous" for the country, Rahul said, "The PM is a very wise man and on most issues, I bow to his wisdom. I support him."
In her speech, Sonia said this election was not only about policies but also for an inclusive India. Without naming Modi, she said the Congress would strive for an "inclusive" India.
"The 2014 polls is not only about programmes, policies, planning and economic development but also to preserve the constitutional structure of the country envisaged by …continued »