RESULTS 2014: Rahul, PM, govt, silence, tickets, campaign…Congress blames them all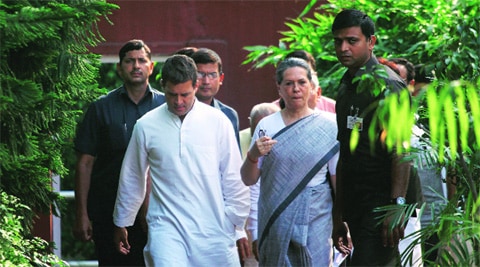 Sonia and Rahul head to address the media in Delhi Friday.
Hours after the Congress was decimated in the general elections and its tally fell to a record low of 44, a shell-shocked Congress president Sonia Gandhi and her deputy Rahul Gandhi took personal responsibility for the drubbing.
The party put up a brave face and asserted it would survive. But finger-pointing, if not a full-blown blame-game, has already begun.
Dazed leaders rallied around the Nehru-Gandhi family and called for introspection. Key leaders maintained a public silence on the reasons for the defeat, while in private holding government leaders responsible.
Questions were also being asked about the style of functioning of 'Team Rahul', which managed the campaign and ran the party since he became vice-president.
A Congress Working Committee meeting has been called on Monday, and sources said Rahul could offer to resign to deflect criticism, but it would not be accepted.
"Congress party has done pretty badly. There is a lot for us to think about. As vice-president I hold myself responsible for what has happened," Rahul told reporters.
Sonia too accepted blame.
"This mandate is clearly against us, our party. We accept politely this decision of voters and respect it. But at the same time, we also hope the next government will not make any compromise with the unity of Indian society and the interests of the nation," she said.
The blow was so decisive that the Congress did not touch double figures of seats in any state.
Party leaders said serious organisational problems and mismanagement of the campaign added to the "mood against the government", fueled by massive corruption scandals, price rise and disconnect with the people.
"The prime minister addressed only three press conferences in 10 years. Isn't that a reflection of the lack of communication?" asked CWC member Anil Shastri. "The continuing rise in prices hit the common man. We could not handle properly the issue of corruption."
Other leaders blamed Rahul's reluctance to become PM candidate, the party's failure to convey a central message during the campaign, the sidelining of senior leaders and organisational failure.
"There are organisational issues. We have to accept the party's weaknesses. We gave the best programmes but failed to give proper publicity," said general secretary B K Hariprasad.
Insult to injury: Speaker's call on Cong status
With the Congress failing to win even 50 seats, questions are being raised over whether any Congress MP will be eligible to be Leader of Opposition.
Experts were divided.
BJP sources said the party was consulting legal experts before taking a call on the issue. Late on Friday night, though some results were yet to be officially declared, the Congress looked unlikely to touch the 54-seat mark — one-tenth of 543.
Former Lok Sabha secretary general T K Viswanathan said there was nothing in the constitution or the Salary and Allowances of Leaders of Opposition in Parliament Act, 1977, that says a party has to have at least …continued »