Rahul a liberal, looks upon all as equals: Priyanka Gandhi
She enumerated the development work carried out in the constituency by her family members.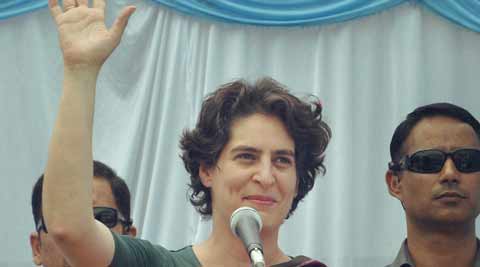 Priyanka Gandhi said that other candidates only come to Amethi because it is the constituency of Rahul Gandhi. (PTI)
several issues which need to be addressed including the electricity crisis in the constituency and also blamed the state government for its slackness in development work.
"I know there is a power problem here. Rahul initiated steps to bring electricity. But the supply of the electricity is state government's responsibility," she said.
She said that some year's back Congress President Sonia Gandhi had spoken to SP Chief Mulayam Singh Yadav about providing 24 hour power supply to both Amethi and Rae Bareli.
But some political parties went to high court asking why these areas were being given special treatment, Priyanka said and added that till these issues are resolved providing uninterrupted power supply would be a problem.
Priyanka said that candidates of opposition parties were spreading various types of propaganda.
She said that they alleged that no development work has been done in Amethi, but the people know what Rahul has done for the area.
"You all understand what Rahulji has done for the development of Amethi. Candidates of other parties neither have any relation with you, nor they have done anything for you. Understand their designs. They have come here only because this is the area of Rahulji," she said.
Priyanka also met some workers of Aam Aadmi Party standing on the roadside in Harakhpur village.
During the roadshow, people in rural areas complained about damaged roads and acute power crisis. Priyanka assured them that it will be looked into.
Priyanka started her roadshow and mass contact programme from Munshiganj, with 50 planned corner meetings.
She was accompanied by the UPCC spokesperson and MLA Akhilesh Pratap Singh and Rahul's representative Chandra Kant Dubey.