'Beti toh beti hai… Good relations with Ahmed Patel'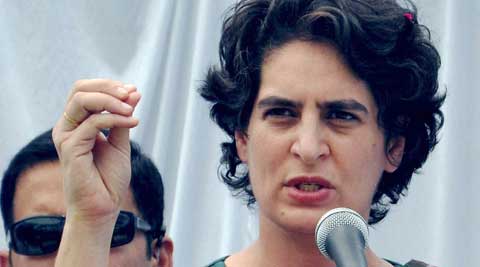 Initially Priyanka did not answer the question but later came out of the SUV and with a stern face replied to the query and left.
Narendra Modi's purported remarks that Priyanka Vadra was "like his daughter" on Thursday elicited a curt "I am Rajiv Gandhi's daughter" from Priyanka. Turns out, however, that what Modi said — and which was edited out from the interview on public broadcaster Doordarshan — was not what was reported.
This is what the BJP's prime ministerial candidate is learnt to have said in the interview aired on April 27: "Beti maa ke liye kuchh bhi karegi, bhai ke liye kuchh bhi karegi, usey iska avsar bhi milna chahiye… Maa aur bhai ke liye nahin karegi to kiske liye karegi? Beti ke naatey Priyanka jo bhi boley main kabhi bura nahin manoonga… Beti toh beti hai.
Which translates as, "A daughter will do anything for her mother, for her brother. She should get an opportunity to do so as well. Who else will she do it for if not for her mother and brother? I will never take offence at whatever Priyanka says as a daughter. A daughter is after all a daughter."
On Thursday, asked by reporters in Amethi what she thought of Modi likening her to his daughter, Priyanka  replied, "I am Rajiv Gandhi's daughter." Asked if she was angry or offended by Modi's statement, she said, "No, it doesn't really anger me… But enough is enough. I don't get offended by anything anyone says." Also on Thursday, Doordarshan defended itself against allegations that it had cut out parts of the interview with Modi, delayed its telecast, and not promoted it enough.
"There was no deliberate editing or omission of any portion of interview," the broadcaster said in a statement. "Wherever editing was done was for technical reasons and during post-production. There was no interference or control from any authority in the entire process. Important portions of the interview were used in all the important bulletins of DD News also."
The statement added that "there was no attempt to downplay the interview", "rather it was given wide pre-telecast publicity and also repeated the next day, i.e., on 28th April, 2014. The clips were also used in news bulletins". Other portions edited out of the interview included Modi's comments on Pervez Musharraf and Muslims, and his "good personal relations" with Ahmed Patel, political secretary to Congress president Sonia Gandhi.
"Mian mussalmanon mein samman-niya shabd hai, isliye Mian Musharraf kahaa. 2002 mein woh Gujarat ke baarey mein bole jo waajib nahin tha, kyunki yeh hamare desh ka maamla tha… Isliye mujhe unke khilaaf bolna pada… (Mian is a respectable word for Muslims, that was why I said 'Mian Musharraf'. What he said about Gujarat in 2002 was not appropriate because it was a matter of our country… …continued »