Priyanka seeks support of Sunni clerics; She'd be better than Rahul, says Madani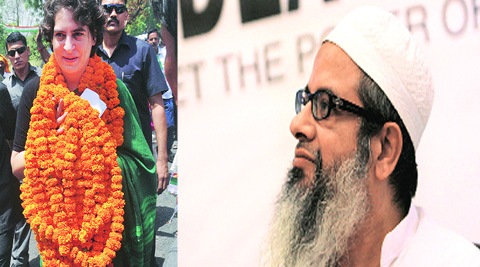 Priyanka in Amethi on Wednesday (L), Mahmood Madani. PTI/Amit Mehra
In yet another indication of her expanding role in the party, which now seems to involve not just managing internal differences and bridging gaps between the old and new guard but also reaching out to external stakeholders to seek support, Priyanka Vadra met representatives of the All India Ulama and Mashaikh Board (AIUMB) in Rae Bareli last week.
According to party sources, Priyanka met AIUMB national general secretary Babar Ashraf for over two hours on April 22. AIUMB is a body of Sunni Muslims with a significant presence and influence in Uttar Pradesh, Rajasthan, Jharkhand and Chhattisgarh among other states.
Ashraf confirmed the meeting, during which he is reported to have raised the concerns and demands of his community. Significantly, Priyanka held the meeting alone — neither her mother and Congress president Sonia Gandhi nor her brother and Congress vice-president Rahul Gandhi were present, indicating a further enhancement of her responsiblities.
Party sources said the AIUMB had first sought a meeting with Rahul, but was unable to meet him due to his busy campaign schedule. A senior Congress leader then arranged a meeting with Priyanka, who, sources said, was keen to meet representatives of the organisation in order to understand issues related to the community.
While Priyanka has confined herself to playing a key back-end role in the party, campaigning only in Rahul and Sonia's constituencies of Amethi and Rae Bareli respectively, she has effectively managed to use these areas as a stage to launch a scathing attack on the BJP and its prime ministerial candidate Narendra Modi.
A senior member of AIUMB said they were "satisfied" with the meeting. "We met Rahulji before the last assembly elections in Uttar Pradesh when he sought our support. But he gave us very little time and has not got back to us about the concerns we raised. We then told them that we would not support the Congress… Our meeting with Priyankaji was satisfactory. She assured us that she would look into our concerns," he said, adding that further discussions were likely to be held after May 7, when Amethi goes to polls.
According to sources, following the meeting, AIUMB decided to support the Congress in Amethi, Rae Bareli and neighbouring areas.
She'd be better than Rahul, says Madani
Jamiat Ulama-i-Hind general secretary Mahmood Madani has said that Priyanka Vadra is more capable than Rahul Gandhi and the Congress would have gained if it had fielded her or roped her in to campaign for the party.
Speaking at the Idea Exchange interaction held at The Indian Express on Wednesday, Madani said: "Do not think I am praising Priyanka, but from what we can see it seems, by her way of talking… Rahul is a bit subdued when he talks, a little on the backfoot… I really liked it when he said the opposition is selling combs to bald people. …continued »