Priyanka is Rahul's back-end manager, bridges gap between his team, old guard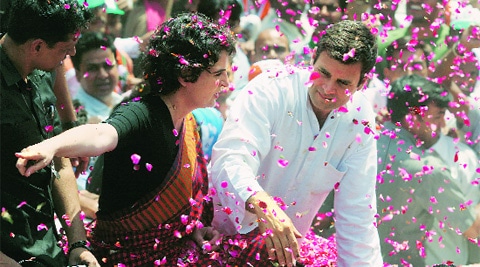 Rahul Gandhi with Priyanka Vadra on his way to file his nomination papers, in Amethi on Saturday. Vishal Srivastav
With Congress vice-president Rahul Gandhi's responsibilities within the party having expanded, his sister, Priyanka Vadra, has stepped in to act as a key bridge between his core team and the party's old guard. In a new, much larger, albeit behind the scenes, role, Priyanka is also coordinating various aspects of the poll campaign, helping iron out differences on a range of issues and managing Rahul's public image.
According to Congress sources, Rahul and his team's gradual takeover of party affairs left several senior leaders alienated and disgruntled. Priyanka is learnt to have stepped in to smooth ruffled feathers and ensure better coordination, particularly after the party's disastrous show in the assembly elections last year. Sources said she sought out those from the old guard who felt left out, held meetings with them, and brought them back on board.
Priyanka, along with her mother, Congress president Sonia Gandhi, is also learnt to have handled conflicting voices within the party on the drafting of the manifesto. The party's open consultation process for the manifesto, piloted by Rahul's team, was leading to a more voluminous version that some quarters felt was unwieldy, and subsequent interventions ensured the document released was shorter. The release of the manifesto was delayed due to differences within the drafting committee. Currently, Priyanka is also actively involved with the "sub-manifestos".
While Rahul is busy travelling and campaigning, Priyanka manages the party's back-end operations. She holds regular meetings with senior leaders like Ahmed Patel, Janardhan Dwivedi and Jairam Ramesh. She also keeps in touch with those from Rahul's inner circle including Mohan Gopal and Kanishka Singh, thus facilitating coordination.
"She is very careful not to offend senior leaders and to take them along. She actively seeks out the senior leaders who have been left out," said a party source on condition of anonymity.
According to sources, a senior leader who felt sidelined was pacified by both Priyanka and Sonia at a meeting recently and assured of his importance. His views are now being actively considered on several matters, including selection of candidates.
This poll season has seen Congress lose several senior leaders to other parties, including Jagdambika Pal, sitting MP from Domariyaganj in Uttar Pradesh, who quit the party saying he felt humiliated. He claimed he was unable to communicate his views to the party's emerging leadership. While Priyanka may have succeeded in building bridges, party sources said more work needs to be done and her efforts would take time to percolate to every level.
Party leaders said Priyanka sees "value in getting the party together". Currently, the party is functioning on a dual management strategy for the polls. While Rahul's team is primarly occupied with his campaign, Priyanka plays a more macro role, looking at overall coordination. …continued »