Pratapgarh Dalits angry with Maya, Muslims feel 'unsafe'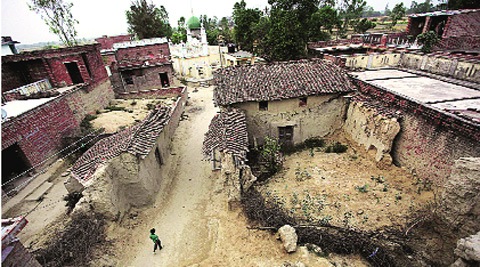 All the houses in the Muslim section of Asthan village in Pratapgarh were burnt down in June 2012
Asthan village in Pratapgarh district, which falls in Kaushambi (SC) Lok Sabha constituency, is a microcosm of a state mired in a continuum of violence since the Samajwadi Party (SP) assumed power in 2012.
Just as curfew in the riot-hit town of Kosi Kalan in Mathura was lifted, the spectre of violence moved to Pratapgarh in eastern Uttar Pradesh on June 23, 2012. The murder of an 11-year-old Dalit girl, allegedly by four Muslim youths including a 13-year-old boy, escalated tensions in this village, ultimately leading to the destruction of all Muslim houses (52) in Asthan.
After days of curfew, Muslims returned to Asthan and were given Rs 5 lakh as compensation to rebuild their homes. Senior state leaders visited the village to survey the damage and offer support, but overlooked the family of the murdered girl, much to the chagrin of the Dalit community here. In the end, the only leader to visit the victim's family was VHP leader Pravin Togadia, who told them Hindus should stick together in times of distress.
And they have. Less than a month away from elections, Dalits here, once supporters of Mayawati, claim they will teach her a lesson and turn to the BJP. With a stamp of approval from Asthan's Dalits, the BJP has been quick to drum up support from across the constituency. "This episode has left not only Asthan's population but this entire area affected. The SP calls us communal, but they help only one community. This election will witness history. Even Mayawati's core vote bank has deserted her," said Santosh Patel, the BJP's Kaushambi district president.
Meanwhile, the Muslims says they don't feel "safe" under the SP government.
According to the victim's mother, the girl had left home on the evening of June 22. "She came back from school and went to the other side of the village to meet her friends. When she did not return after a few hours we raised an alarm and went to look for her. We could not find her but we noticed four boys from the Muslim quarter running back to their homes," she said.
Asthan village comprises a Muslim quarter with 52 houses, an upper caste hamlet a kilometre away to the east, and the largest sub-village to the north with 200 families, including Yadavs, Brahmins and Dalits.
"The next morning we found my daughter's body. She had been strangled and left in the wilderness. We immediately registered an FIR.
The police rounded up the four boys but did not arrest them, keeping them in the police station as if they needed protection," she said.
On June 23, as the victim's funeral procession ended, hundreds of villagers gathered, seething against police inaction. "The police had done nothing and the people were angry. …continued »