CPM releases manifesto; Prakash Karat hopeful of non-Cong, non-BJP govt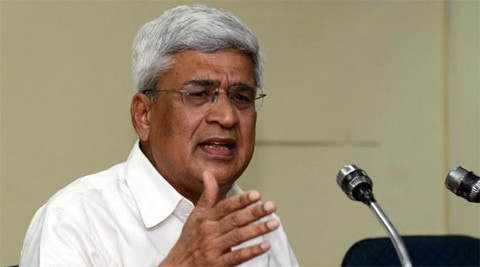 Karat said the four Left parties would jointly contest around 100 Lok Sabha seats across the country.
CPI(M) on Thursday exuded confidence that Left and regional parties would pool in their respective strengths after the upcoming general elections in their bid to form a non-Congress, anti-BJP government.
"We (Left and regional parties) have earlier decided to fight both Congress and BJP. We are going together…We are working to maximise our strengths and seats in respective states or areas of strength. A concrete shape will emerge after the elections," CPI(M) General Secretary Prakash Karat told a press conference.
To a spate of questions on the proposed front to be forged by 11 regional and Left parties to form a government at the Centre, he said, "We will pool in our resources and strengths after the elections…that is going to happen."
Karat was speaking to reporters after releasing CPI(M)'s poll manifesto which focused on strengthening the Left and projecting a secular and democratic alternative by "rejecting Congress and defeating BJP".
Asked whether these parties would have electoral understanding or seat adjustments among themselves, he said, "We said we are coming together (against Congress and BJP)… this is not predicated with our having any electoral understanding or an alliance (with regional parties)."
He said CPI(M) had tried to forge an alliance with the ruling AIADMK in Tamil Nadu but "that has not happened." To a question on the Federal Front idea floated by Trinamool Congress, Karat categorically said, "That is not going to come about."
He said the four Left parties would jointly contest around 100 Lok Sabha seats across the country. Karat rejected the contention that the walkout of RSP's Kerala unit from the Left Democratic Front in the state would have an impact on the overall Left unity. "Just because one state unit (of RSP) has defected, it doesn't mean that RSP is not there. This unit has defected earlier too."
On Prime Ministerial candidate, he said, "In principle, we are against a PM candidate. We are parties state-based parties…it is wrong to project any one leader."  On the projection of Narendra Modi or Rahul Gandhi, Karat, without naming them, said, "It is clear that the elections are being projected as a battle between certain leaders or personalities but devoid of major issues and policies afflicting the people."
He attacked Congress for its "record of misrule, striking failure in containing price rise or generating employment despite claiming a high rate of growth, unprecedented corruption and mega scams and failure to improve the lives of the people." In the same breath, he took on BJP saying the saffron party was "not only not an alternative to Congress, but a retrograde and reactionary alternative."
BJP had shown "its record of corruption" in states like Karnataka, he said, adding it was the NDA government which started the process of deregulating prices of petrol products. "On …continued »