Transfer of officials: Poll panel stares down CM Mamata Banerjee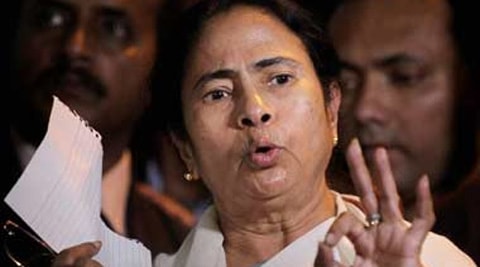 How many similar actions has it taken in Gujarat, Rajasthan or Maharashtra? Why are regional parties being targeted, asked Mamata Banerjee. (PTI)
A day after she defied the Election Commission's order to transfer eight top officials in the state, West Bengal Chief Minister Mamata Banerjee gave in on Tuesday. The turnaround came hours after the EC took a firm stand, saying its order would have to be implemented by Wednesday morning.
Addressing a press conference in the evening, Banerjee said, "The officers would be transferred according to the EC's instructions, but they will be reinstated after the elections."
Accusing the EC of playing "political games" and "political vendetta", she said, "How many similar actions has it taken in Gujarat, Rajasthan or Maharashtra? Why are regional parties being targeted?"
Sources said the decision was taken after the state chief secretary sent a note to Banerjee suggesting that the government should accept the EC's recommendations since it had turned down the state's request and was insisting on immediate compliance.
Earlier in the day, the chief secretary asked the EC to reconsider its decision on the ground that it could lead to law and order problems. But EC sources said it was "clearly" indicated to the state government that the transfers would have to be carried out.
"We expect the state government to implement our decision by tomorrow morning," said an EC functionary. Sources said the decision to turn down the chief secretary's plea was taken at a meeting of the full commission held in the afternoon.
On Monday, the EC had ordered the transfer of five superintendents of police and three district magistrates and additional district magistrates, after reportedly receiving complaints of bias. Defying the order, Banerjee had said she would "not remove a single officer" and was ready to go to jail.
Addressing a rally in Barjora in Bankura district on Tuesday afternoon, she remained defiant. "I will not remove a single officer. They have not committed any offence. Why should they be removed," she said.
"We also lodged many complaints with the EC, but it took no action. Only TMC posters were removed from many places. I know the Constitution. I will respect you, but you will have to respect me too," she said at another meeting in Kotshila in Purulia. She claimed that she was being targeted because of her background. "They cannot stand ordinary women like me coming from ordinary backgrounds," she said.
But she relented in the evening, even as she said that the "officers were transferred without consulting the state government. No opinion was even sought as to which officer has the competence in which district".
The state government did not have much choice. The EC functionary pointed out that if its order was defied, the poll panel could either postpone the elections and/ or approach …continued »