Poll boycott as call of hunger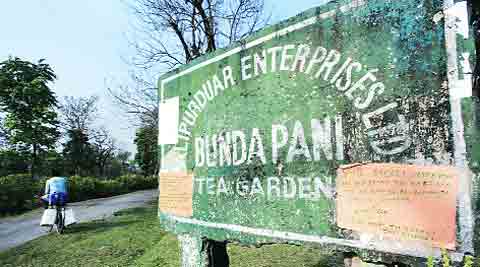 Boycott notice on Bundapani signboard. Subham Dutta
A call by workers to boycott the elections puts the spotlight on tea estates in the Terai-Dooars in North Bengal, a number of which have shut down and where several workers have died allegedly of starvation.
Workers of at least three gardens under Alipurduar constituency in Jalpaiguri have declared a boycott of the polls, and those from at least two others that are closed are expected to join in. Bundapani tea estate at Birpara was the first to call for a boycott, followed by Dheklapara and Surendranagar, together accounting for at least 15,000 voters.
The Bundapani tea estate on the foothills of the Himalayas has 1,600 workers (1,200 of them permanent). Closed since June 2013, the estate has a population of 5,000 including the families of the workers. Since July, 14 workers have died of starvation, alleges Ghyan Prakash Thapa, general secretary of the coordination committee of the Bundapani Trade Union. Residents have submitted a memorandum to the TMC candidate, Dasharath Tirkey, seeking government intervention in reopening the estate.
Tirkey, who has been campaigning in the area, said, "We will bring the matter to the notice of Chief Minister Mamata Banerjee. But our government has started giving them rice at Rs 2 per kg."
The region has 187 tea gardens, of which at least eight are closed, leaving over 7,500 workers unemployed. At least 33 gardens shut between 2004 and 2006. The wages paid are among the lowest in the country and some political parties are promising a minimum of Rs 213 per day. The tea estates are also suffering from litigation around ownership, said Anuradha Talwar, a social activist working in the region for a long time.
The region produces over a quarter of the crush, tear and curl (CTC) variety of tea in the country. The eight closed tea gardens account for 5,000 permanent workers, 3,000 contract workers and a population of about 25,000.
One has to cross four riverbeds to reach Bundapani, located 15 km from the Birpara main road. These streams run dry in summer and winter. With no other work, labourers and their families survive by carrying stones from riverbeds to the nearby stone quarries.
Sieving stones fetches them a daily wage between Rs 40 and Rs 70. While distress migration was common even before the estate closed down (due to wages as low as Rs 95 per day), trafficking of girls and women has become rampant, say residents.
Ruman Mangar, a worker at Bundapani tea estate, said, "I work at the stone quarry but cannot provide two meals to my family. We depend on the garden for our needs. Since the garden shut down, we no longer have access to health centres and schools. Electricity and water connections too are snapped."
"We have run from pillar to post, submitted memorandums to the district magistrate, the divisional commissioner and the minister. But nothing happened. We beg for government intervention. We don't …continued »