Politics takes a backseat at Sonia's 'farewell' dinner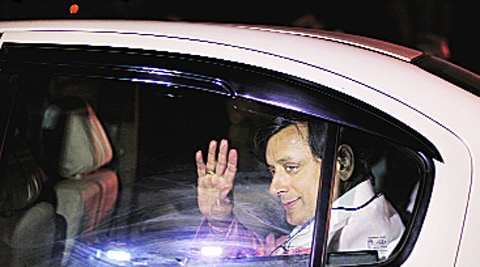 Shashi Tharoor waves to the mediapersons as he enters the venue. Ravi Kanojia
From cracking jokes to listening to funny experiences of her colleagues, Congress president Sonia Gandhi Monday played the perfect host at a lavish dinner for party MPs and senior leaders at her residence. Although the party is gearing up for a tough election ahead, lending the dinner a farewell touch, the mood was jovial and politics virtually took a back seat. 
The centre of attraction was Sonia's dinner table where the women MPs including Lok Sabha Speaker Meira Kumar sat for the lavish spread. And the conversation swung from the controversy over a woman who allegedly kissed Rahul Gandhi in Assam to Mamata Banerjee's antics in West Bengal. With the likes of Meira Kumar, Deepa Dasmunsi, Krishna Tirath, Annu Tondon, Panabaka Lakshmi all sitting with Gandhi, many male MPs joked the table had over 33 per cent reservation.
Sonia, sources said, was cracking jokes. Meira recalled how despite being fiery, the Parliament session ended on a positive note. Sonia too appreciated the camaraderie which was visible on the last day of the 15th Lok Sabha session and did not forget to pull Meira's leg, saying now nobody is going to listen to her here.
At one point, Sonia is learnt to have referred to wrong media reports from Assam which had suggested that the woman who kissed Rahul was burnt to death by her husband to convey the "extent" to which the Congress is being tarnished. Panabaka Lakshmi, sources said, chipped in recalling a telephone call she recently received congratulating her for leaving the Congress to protest the division of Andhra Pradesh. The caller had mistaken her for D Purandeswari.
The Congress president also mentioned the speculation about Tondon leaving the Congress. The Unnao MP has already denied the reports. Tirath was teased by the other women MPs for eating slowly with some asking whether she was on a fast. Dasmunsi lent a political touch to the discussion as she wanted Health Minister Ghulam Nabi Azad to visit West Bengal to explain how the Trinamool Congress government scuttled setting up of an AIIMS-like hospital in the state by not giving land.
Both Sonia and Rahul went to all the tables chatting up with MPs and Congress leaders. Some of the new Congress office bearers thanked her for giving them party responsibilities while many of the MPs shared with her the state of affairs in their constituencies. Sonia, sources said, gave a chin up message to all asking them to go to the polls with confidence. There were no formal speeches from either the party president or the vice-president. Rahul was the topic of the discussion at many tables with MPs and leaders talking about the opposition attack on him.
With many of the MPs having brought their spouses along, Sonia spent quite some time posing for photographs and in …continued »