Manmohan Singh in control, Sonia Gandhi never interfered: Ahmed Patel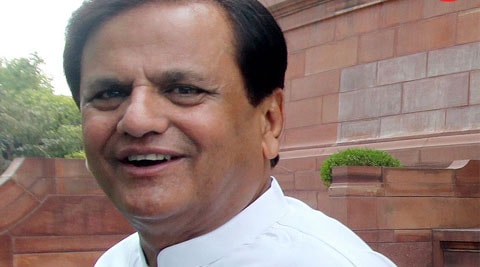 In Delhi, Patel prefers to work from his residence at 23, Mother Teresa Crescent.
Sonia Gandhi's political secretary Ahmed Patel today asserted Manmohan Singh has had "full authority and full independence" in his functioning as prime minister and the Congress president "never interfered" in governance issues. Patel also launched a counter-offensive against the BJP for its attack on Robert Vadra, Sonia's son-in-law, saying that it was the principal opposition party's "poll gimmick" that will never succeed.
"It's a tough election because we have been in power for 10 years. You have seen how the NDA disintegrated in six years. Whatever benefit Narendra Modi is getting is because of the anti-incumbency factor. Even under the leadership of Rajnath Singh or Sushma Swaraj or Arun Jaitley, they could have got the same benefit. There is nothing extraordinary (about Modi). I can see the mood of the people… I don't think Modi is going to be the prime minister," Patel said in a telephonic interview with The Indian Express. The Congress president's political secretary has, of late, been camping in Gujarat spearheading the party"s election campaign in the state.
Asked whether he thinks the BJP's offensive against Vadra was a reaction to Priyanka's attack on Narendra Modi, Patel said, "It's an election stunt. They want to damage the Congress and therefore, they want to target the Gandhi family first. They are not even mentioning what favour he (Vadra) got from the government. It is an election gimmick.""
"They (BJP) started it (personal attack) first. From the very beginning, in Gujarat and elsewhere, he (Modi) has been using improper words against Mrs Gandhi too. He is talking about tolerance but does he have it? If there are agitations, he crushes them. If the media writes against him, he lodges FIRs against them. What kind of tolerance is he talking about?"
Asked about a reference in Manmohan Singh's former media adviser Sanjay Baru's book to Sonia constantly interfering in governance – like sending him to the PM to make changes in the list of council of ministers even after he had signed it-Patel said, "The PM always had full authority. Whenever there was a cabinet reshuffle, it was directly between the PM and the Congress president. I was never in the picture. I may have provided some information to the Congress president whenever asked but I never did it to the Prime Minister. Modi is targeting the PM because he wants to attack Mrs Gandhi. Can a single minister say that Mrs Gandhi ever enquired about any file?… The prime minister has had full authority and full independence. (Except) for party programmes, the party leadership never said anything. That doesn't mean anybody was interfering."
Asked whether the PM had threatened to resign over the Indo-US nuclear deal in 2008, Patel said, "Not to my knowledge. Whatever decision was taken was with full consultations with everyone."
Asked whether Priyanka's attack on Modi is a prelude to her entry into the party, Patel said, "The Congress has made it clear and Priyanka Gandhi has made it clear. I have nothing to add to that. Whenever the time is appropriate, she will take the call."
Asked if the Congress would support a third front government if needed, he said, "We are confident that we will cross the magic figure. Where is the question of a Third Front? Anyway, hypothetically, to keep communal parties at bay, like-minded secular parties may come together but first let the results come. It is premature to say anything. It is for the Congress president and the CWC to decide."