The Namo Rath: Playing near them, 54-inch Narendra Modi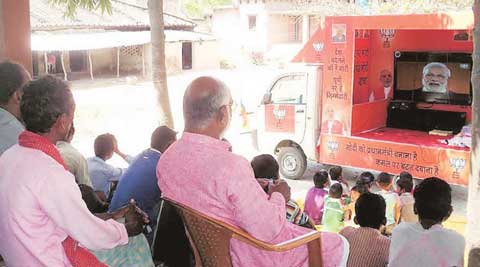 The rath at Ekla Purva in Siswa village. As the 10-minute Modi video plays, partymen distribute pamphlets, masks. (Express Photo: Lalmani Verma)
The voice is loud, inescapable and unmistakable. Ram Bhawan hastens towards it down a narrow lane of Chauhan Basti in Jamki village, helped along by childhood friend Vikas. Bhawan, 37, is blind since birth. However, he has been hearing enough on television to put that voice to a face. "Is Modi here?" he asks Vikas. Vikas shakes his head, but then Narendra Modi doesn't have to be here in Chauhan Basti.
At the end of that lane, in the verandah of Bansnath Chauhan's house, is parked a 'NaMo Rath'. A 10-minute recorded speech of Modi is being screened on a 54-inch LCD screen on the rath, that is also equipped with a power inverter, an amplifier and loudspeakers.
Two hundred such Mahindra Maximos or 'raths' — with posters of Modi and messages such as 'Modi aane wala hai (Modi is coming)' plastered over them — hit the roads in Uttar Pradesh on March 19, while 200 more are in the process of rolling out. They will cover all the 403 Assembly seats across the state, starting with 19,000 villages in generally inaccessible areas where cavalcades of senior leaders can't venture and TV sets are a rarity, remaining on the road till May 10. Each vehicle carries the electoral rolls of the areas falling along its route, as well as pamphlets and masks of Modi.
There are five such raths criss-crossing Azamgarh, a crucial contest now with Samajwadi Party chief Mulayam Singh Yadav in the fray and Modi's seat Varanasi not too far away. "Soon, a centralised control room will be set up in Lucknow to monitor the movement of raths by GPS," says Rakesh Tripathi, an ABVP worker coordinating the 'Modi Sandesh Yatra' rath programme in the state. Explained where the voice is coming from, Bhawan nods in approval. "Let's see if the US issues a visa to Modi when he becomes prime minister," he smiles.
It's 3.15 pm on the first day, and Chauhan Basti is the 11th stop for the NaMo Rath traversing Azamgarh's Mehnagar Assembly constituency. The rath set off that day from Gurehtha near Singhpur, with five persons on board, and its first stop was Singhpur Bazar at 10.15 am. Teejaram, the Azamgarh district president of the Scheduled Caste Morcha of the BJP, is in-charge of the Mehnagar NaMo Rath and its route.
As the rath reaches the small market of Singhpur Bazar, party district secretary Arvind Singh asks driver Prem Hans Pal to park under a neem tree. Two 'helpers', 13-year-old Mayank (the son …continued »