Ram Vilas Paswan, who left NDA over Modi, signals tie-up with BJP for 'new option'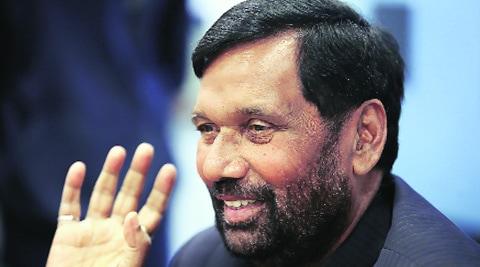 Upset over delay in talks by Congress and RJD, Paswan had been hinting at a possible tie-up with BJP in Bihar.
Twelve years after walking out of the NDA, the Lok Janshakti Party (LJP) led by Ram Vilas Paswan seemed set to return to the BJP-led alliance ahead of the coming Lok Sabha polls. Stating that the "option" of an alliance with the Congress-RJD is "deadlocked", Paswan said "all options are open" now.
Addressing a press conference on Wednesday, Paswan said, "The opinion in LJP is not against going with the BJP. A decision on an alliance will be taken in three-four days… The party looking for a new option means that there is a deadlock in the old alternative. Our alliance was with the RJD, that option is now deadlocked. There is now no dialogue, no communication."
The party's parliamentary board, headed by Paswan's son, Chirag Paswan, authorised the party chief to take a final decision. "The LJP parliamentary board has passed a resolution that all steps, even if they are strong ones, should be taken in the interest of the party and if an alternative alliance is to be firmed up, party chief Ram Vilas Paswan should take the decision," said Chirag Paswan. Asked if the LJP would tie up with the BJP, he replied, "All options are now open for the LJP".
The LJP chief said the party's parliamentary board members felt that the option of going with the BJP should be kept open. "We had our grievances with the RJD for a long time. I had even gone to meet Lalu Prasad in jail. But after he was released, RJD leaders started saying that the LJP should be given just three seats. We left it to the Congress to decide on seat-sharing. I waited for months, but there was no decision," said Paswan.
"They assumed the LJP is nothing, it is irrelevant. If one (RJD) takes 25 seats, and the other (Congress) 15, it means they do not treat LJP as part of the alliance… That is why the party has authorised me to explore a new alternative," he said.
Paswan had left the NDA and resigned from the Vajpayee government in the wake of the Gujarat riots in 2002. The LJP was part of the Congress-led UPA from 2004 to 2009.
Asked how he could tie up with the Modi-led BJP, Paswan said, "On the one hand there is personal emotion, and on the other there is the party. The party is like my mother and its decision is binding on all".
Dismissing questions on whether an alliance with the BJP would affect his secular credentials, Paswan said, "The LJP will stick to its ideology. There is no need to tell the world that Ram Vilas Paswan is secular. Our party has suffered hugely for the cause of secularism. I even …continued »