Paswan alienates Hajipur's M-Y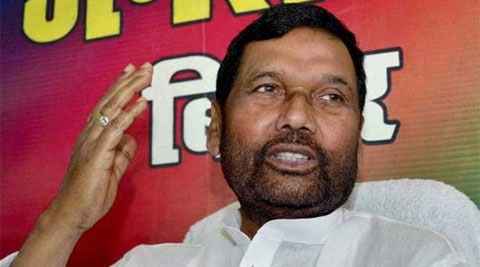 Paswan was already cut to size by Nitish Kumar, who created the Mahadalit community, thus ensuring that Paswan went from being the leader of all Dalits to being a Dushad caste leader. (PTI)
Muslims, Yadavs vow to vote him out of Hajipur
Pledging to end Ram Vilas Paswan's political roving eye, Yadavs and Muslims of Hajipur seem to be staying away from a leader they elected six times.
The Yadavs in particular see his latest flip to the BJP side as a betrayal, as their leader Lalu Prasad had helped Paswan win a Rajya Sabha seat in 2010. "For us Yadavs in Hajipur, there is only one aim — to defeat Paswan. For that, we are willing to forget that this election nationwide is a Hindu-Musalman ladayi and vote with the Muslims," said Sanjay Kumar Gope in a tea shop in Vaishali district's Mahua block.
"Of course, this does not mean we will win. We Yadavs are too dabangg, there is a lot of anti-Yadav vote; people just vote for anyone we oppose," he chuckled.
Paswan was already cut to size by Nitish Kumar, who created the Mahadalit community, thus ensuring that Paswan went from being the leader of all Dalits to being a Dushad caste leader. His latest jump has meant that the Muslims too have abandoned him.
"We had other reasons for opposing the BJP, but Paswan's betrayal has meant that most of us are likely to stand with the lantern (RJD). He needs to be taught a lesson," said Mohd Sirajul Haque of Mansoorpur in Chehrakala block. The RJD has asked its supporters to vote for Sanjeev Prasad Toni, the Congress candidate.
However, with Toni not considered a strong candidate — a number of Muslims and Yadavs did not know his name — the Muslims could turn around and vote for the JD(U). "The JD(U) candidate is 93 years old and is a less-than-ideal candidate. At the same time, he retains the chance of victory — he is the sitting MP. So, if we think the Congress is losing, the Muslims could vote to defeat the BJP and Paswan," said Mohd. Sirajul Haque.
Hajipur votes on May 7.
The Muslims were also not impressed that Paswan used their name in vain in 2005. "He caused a double [assembly] election in our name in 2005 by insisting that a Muslim should become CM. Bhai, we gave him votes to form the government somehow. He played politics with it," said Mohd. Javed of Abubackerpur in Chehrakala.
However, while the Yadavs refuse a future when Paswan returns to Lalu Prasad's good books, the Muslims are keeping an open mind. "We will vote for him when he becomes secular again," says Javed. In fact, Roti palatna hai — an allegory widely used in the adjacent Muzaffarpur …continued »