New Delhi |
Updated: April 6, 2014 1:20:41 pm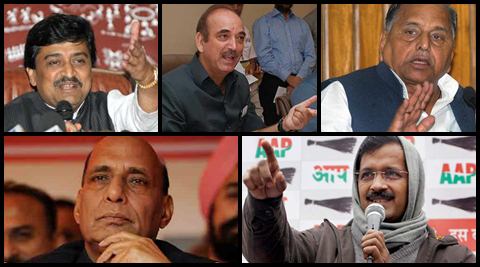 'Yeh dil maange more' seems to be mantra for over two dozen former chief ministers of various states who are contesting upcoming Lok Sabha elections on different party tickets.
These include BJP veterans Rajnath Singh and Sushma Swaraj, Congress' Ghulam Nabi Azad, Sushilkumar Shinde, Ashok Chavan and Capt Amarinder Singh, Samajwadi Party supremo Mulayam Singh, Rashtriya Janata Dal's Rabri Devi and Aam Aadmi Party's Arvind Kejriwal.
Interestingly, two serving chief ministers– Narendra Modi (Gujarat) and Neiphiu Rio (Nagaland)– are also contesting Lok  Sabha elections, spread over nine phases and starting on Monday.
BJP chief Rajnath Singh, who is contesting from Lucknow seat, was the Chief Minister of Uttar Pradesh between October 28, 2000, and March 7, 2002. Swaraj, former Delhi Chief Minister from October 13 to December 3, 1998, is fighting polls from Madhya Pradesh's Vidisha constituency.
Both Singh and Swaraj are sitting MPs, from the Ghaziabad seat in Uttar Pradesh and Vidisha, respectively.
Union Health Minister Azad is contesting from Jammu and Kashmir's Udhampur constituency on a Congress ticket.
Azad was the Jammu and Kashmir Chief Minister between November 2, 2005, and July 11, 2008. In Maharashtra, Home Minister Sushilkumar Shinde is also in the poll fray from Solapur constituency.
Shinde, the sitting MP from the seat, was Maharashtra chief minister between January 2003 and October 2004.
Former Maharashtra Chief Minister Ashok Chavan is contesting from Nanded. He was Maharashtra Chief Minister between 2008 and 2010.
In Punjab, Amarinder Singh is contesting from Amritsar as a Congress candidate. Singh was the Chief Minister of the state between February 26, 2002, and March 1, 2007.
Samajwadi Party (SP) chief Mulayam Singh Yadav is contesting from Uttar Pradesh's Mainpuri constituency, represented by him in the lower house of Parliament. Yadav was the state chief minister for three times — from December 5, 1989-June 24, 1991, December 4, 1993-June 3, 1995, and August 29, 2003-May 12, 2007.
Rashtriya Janata Dal supremo Lalu Prasad's wife Rabri Devi is contesting from Bihar's Saran constituency. She was Bihar chief minister between 2000 and 2005.
Also in the poll fray is AAP convener Arvind Kejriwal, who was Delhi Chief Minister between December 28, 2013, to February 14, 2014, and is contesting from Uttar Pradesh's Varanasi constituency.

Kejriwal is fighting against Modi, who is in his third term as the chief minister of Gujarat.
For all the latest India News, download Indian Express App