Once a critic, Smriti Irani hardsells Narendra Modi's image to woo voters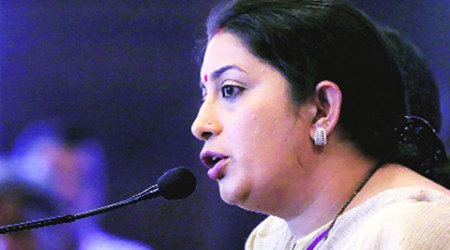 Irani has also been praising Modi, saying that though she was extremely uncharitable in making comments against Modi in 2004.
BJP's Lok Sabha candidate in this Nehru-Gandhi bastion, Smriti Irani, is hardselling Narendra Modi's 'Vikas Purush' image among the people here who know her more as 'Tulsi', the quintessential 'bahu' she played on small screen, than as a politician.
As she addresses one meeting after another in the rural interiors of Amethi, young girls and women gather around her and engage her in animated conversation. She is more popular here for having played Tulsi in Ekta Kapoor's popular TV soap 'Kyunki Saas Bhi Kabhi Bahu Thi' between 2000 and 2008.
In her meetings, the 38-year-old Irani frequently invokes BJP prime ministerial candidate Modi's name. "(Modi) will be able to do in 60 months what the Congress' first family could not do in 60 years (here)," she tells the locals. Significantly, Irani had demanded Modi's resignation over the Gujarat riots shortly after she joined the party in 2004. That year she had unsuccessfully contested Lok Sabha polls from Delhi's Chandni Chowk seat against Congress' Kapil Sibal.
Later, she withdrew her statement after BJP made it clear that she either retract or face action. Gradually, she is believed to have become a key member of Modi's inner circle. During her campaigning, Irani has also been praising Modi, saying that though she was extremely uncharitable in making comments against him in 2004, her nomination was example of Modi's generosity.
The Rajya Sabha MP, who was also a former McDonald's outlet worker and a Miss India contestant, exudes confidence about her chances this time, saying the seat symbolises the "failure of the leadership" of sitting MP Rahul Gandhi. "This constituency symbolises the failed leadership qualities of Rahul Gandhi. If this has been a high profile seat for decades, then why is it that this constituency does not have spic and span roads and 24-hour electricity… Why are people drinking water laden with arsenic?" she said.
She further said, "The gentleman who represents the constituency talks about the right to education, but in his home constituency, fails to deliver on those promises and those dreams."  Irani contrasts the power situation in Amethi with that in villages of Gujarat and mocks the Gandhi family for not having fulfilled promises like bringing rail connectivity to Salon.
She said that access to even the basic amenities was a challenge for the people of the constituency.
"'Bijli, sadak and paani', which was our slogan in 2004, is still applicable to Amethi in 2014. For me to say I will connect them via optical fibre, people first need electricity. For me to say that I will ensure that your school gets computers, you need teachers here first.
"It is the only constituency where Rahul has inaugurated a factory twice but it has not generated jobs," claimed Irani.In 2009, …continued »