On trip to Gujarat, chatter is who made it so bright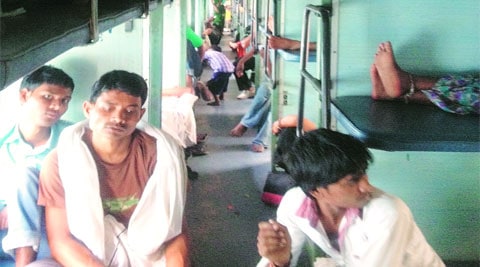 Passengers aboard the Sabarmati Express. Avishek G Dastidar
he would have been either unemployed or become a helper to some mason. Over the years, he got his brothers and some friends to join the company. "In our village, the netas come to ask for support but the village remains the same. In Gujarat, we've seen things improve and we are yet to see any neta. We see only Modi on TV," he says.
Indian Railways carry around 2.3 crore passengers a day. Even if less than half that number is unable to vote because they are on board a train on a polling day, that leaves almost nine crore people out of the voting exercise this nine-phase election. Many of the passengers say they could not vote.
As you stroll down the 20 coaches, you can hear "Ab ki baar Modi sarkar" jokes, and talk of "why Akhilesh is not able to work…", how "Behenji is giving a fight to the BJP", whether Modi will keep Vadodara or Varanasi, and even "Kejriwal".
At stations, there is a scramble to get water and food as the Sabarmati Express does not have a pantry car. The garbage bins soon start overflowing and the stench from the toilets lingers on as the train carries on its 1,500-km journey. There is little mention of the 2002 riots. Most say they were not in Gujarat when it happened.
"Our family is divided 70-30 in favour of not voting for the BJP. Modi may talk development, but what about the RSS and such organisations?" asks Mohammad Sadiq from Lucknow who works as an assistant manager at a multinational company in Ahmedabad.
Not much has changed in the sleeper coaches of the train since the fire 12 years ago. Now there are emergency windows, but no firefighting equipment in the non-AC coaches. Railways says the upholstery is now made of fire-resistant material.
The train enters Gujarat at Dahod, a district headquarters around 200 km from Ahemdabad. A few get off. It is 1.30 am as it enters Godhra. If you stare in the darkness, you see two coaches at an abandoned corner near the yard — the charred remains of the coaches from 12 years ago.
"If you want to know you have entered Gujarat," says the young coach attendant, "just look at your cellphone. It catches a 3G connection. In rural UP and MP, you might not have found network at all."
You check your mobile to see if it is true. Turns out it isn't.