On trip to Gujarat, chatter is who made it so bright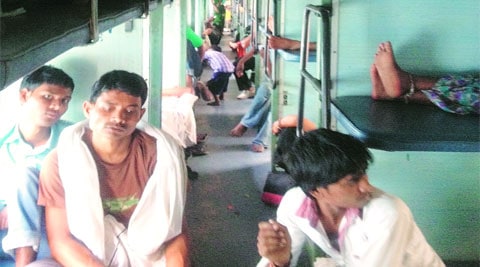 Passengers aboard the Sabarmati Express. Avishek G Dastidar
It is five in the evening. A few hours after starting from Varanasi, the Sabarmati Express chugs into Shahganj in Uttar Pradesh, already over an hour late. Sitting on his AC-III tier side-lower berth, 26-year-old Rohan Singh tells a story. "Once, a friend and I went on a road trip from Vadodara to Rajasthan on my two-wheeler. We got lost while coming back at night, so I asked a villager near the border if it was Gujarat or Rajasthan," he says. "The villager pointed to an area shrouded in darkness and said that was Rajasthan, and beyond that, where you could see lights, was Gujarat."
Singh, who comes from a family of farmers in Chandauli, Uttar Pradesh, has been posted at an FCI office in Vadodara for the past one year and he isn't missing his hometown. "If it wasn't for the little bit of agricultural land that my family holds in Chandauli, I would have gladly got my parents to shift to Gujarat," he says.
In the midst of a bitterly contested election, it is not difficult to get strangers cooped up in a train for 34 hours to talk politics, especially about Narendra Modi.
The train, remembered for the Godhra fire of 2002 that left 59 passengers dead inside two coaches, remains a popular transport option to Gujarat for migrants from Uttar Pradesh, Madhya Pradesh and Bihar. Notorious for delays, the train runs thrice a week, crawling through three states in the Hindi heartland and stopping at 51 stations.
In the evening, the train enters Ayodhya station. The station and some nearby localities are dark. It's apparently a power cut. Sales executive Anil Yadav, 30, is amused. "Darkness in the land of Ram… And they distribute laptops in UP. Modi sab theek kar dega," he says.
Modi often speaks of migrants from UP and Bihar flocking to Gujarat. Seen through the eyes of the migrants, Gujarat almost assumes the proportion of a fabled land. "What roads! Nowhere will you find the roads that you see in Gujarat. And if you have a pair of able hands and don't mind working hard, you will surely get a job," says Behraj Khan, 32, a driver at a sugar mill in Bardoli near Surat. Ever since he shifted to Gujarat in 2003, Behraj has helped six of his relatives near Lucknow to migrate to Gujarat. "I started with Rs 6,000, now my salary is Rs 17,000 with a yearly allowance to visit home. Where would I have managed this UP?"
More such claims emerge — women can wear gold and walk down the streets of Ahmedabad in the dead of night, unescorted; traders can carry cash in bags and not get robbed.
Khan's co-passenger in coach S-6, 25-year-old Raj Mohammad from Rae Bareli, went to Ahmedabad five years ago to work in a pipe fabrication company. In Rae Bareli, he says, …continued »